Description
The MAX15108A high-efficiency, current-mode, synchronous step-down switching regulator with integrated power switches delivers up to 8A of output current. The regulator operates from 2.7V to 5.5V and provides an output voltage from 0.6V up to 95% of the input voltage, making the device ideal for distributed power systems, portable devices, and preregulation applications.
The IC utilizes a current-mode control architecture with a high gain transconductance error amplifier. The current-mode control architecture facilitates easy compensation design and ensures cycle-by-cycle current limit with fast response to line and load transients.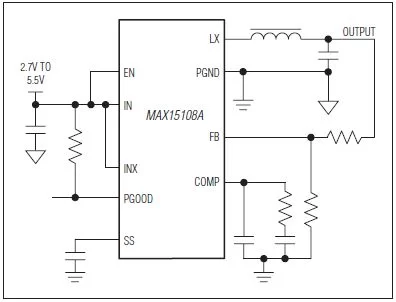 The low RDS(ON) integrated switches ensure high efficiency at heavy loads while minimizing critical inductance, making the layout design a much simpler task with respect to discrete solutions. The IC's simple layout and footprint assures first-pass success in new designs.
The regulator features a 1MHz, factory-trimmed fixed-frequency PWM mode operation. The high switching frequency, along with the PWM current-mode architecture allows for a compact, all ceramic capacitor design.
The IC features a capacitor-programmable soft-start to reduce input inrush current.
Internal control
circuitry ensures safe-startup into a prebiased output. Power sequencing is controlled with the enable input and power-good output.
The IC is available in a 20-bump (4 x 5 array), 2.5mm x 2mm, WLP package and is fully specified over the -40°C to +85°C temperature range.