Kinetis KEA128 StarterTRAK for CAN Applications
This reference design is a low-cost development kit based on Kinetis EA series MCUs that allows faster prototyping and tool reuse. This evaluation board features either one of the KEA128, KEA64 or KEA8 MCUs, depending on the board version. This particular design uses KEA128. The Kinetis EA series MCUs are a highly scalable portfolio of 32-bits ARM Cortex -M0+ MCUs aimed for general automotive applications. The family is optimized for cost-sensitive applications offering low pin-count option with very low power consumption.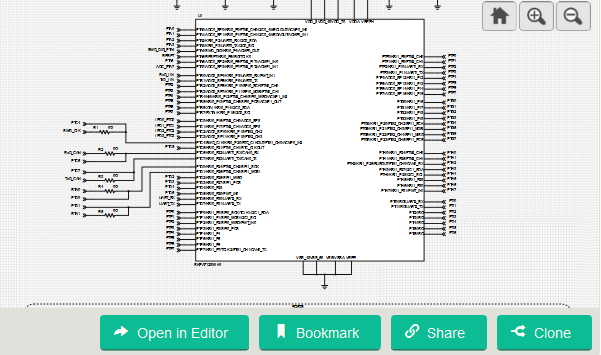 This design utilizes a Kinetis KEA128 MCU, which has an ARM Cortex-M0+ core. Also, it features a CAN module, a UART module with LIN capabilities, a pulse width timer (PWT) and a keyboard interrupt module (KBI). All these peripherals along with standard serial communication protocols such as I2C and SPI offer flexibility for a wide variety of applications. The TRK-KEA board includes an onboard OpenSDA programmer and debugger, LIN physical transceiver, CAN physical transceiver, a light sensor, four LEDs and two pushbuttons for user interface.
With 2.7V-5.5V supply and focus on exceptional electromagnetic compatibility (EMC) and ESD robustness, Kinetis EA series MCUs devices are well suited to a wide range of applications ranging from body applications, powertrain companion chips or generic sensor nodes, park assistance, pump/fan controller, and motorcycle CDI/EFI. In automotive body applications, the Kinetis EA series MCUs are a great option for entry level body controller or gateway module, window/roof/sun-roof controller, immobilizer or seat/mirror controller, ambient lighting, just to mention a few
For more detail:   Kinetis KEA128 StarterTRAK for CAN Applications
Project Ratings:
Related posts