IOT based temperature data logger using esp8266 and pic microcontroller
IOT based temperature data logger using esp8266 and pic microcontroller: Hi everyone I hope you are learning about embedded systems and working on embedded systems based projects. Internet of things is a very popular topic now a days among engineering students and professionals. Many Engineering students works on IOT based projects.In today's project based on pic microcontroller, you will learn how to make IOT based temperature data logger using pic microcontroller and esp8266 wifi module. ThingSpeak will be used as a live monitoring server of data. You will learn how to send data to a server like thingspeak.com. In this project, we will measure temperature with LM35 temperature sensor using pic microcontroller and we will interface esp8266 wifi module with pic microcontroller. Wifi module is used to send data to server thingspeak. We will plot temperature in the form of graph on thingspeak.
Working OF IOT based temperature data logger using esp8266
In this project we will monitor temperature value using temperature sensor on ThingSpeak. We will display the temperature sensor data over internet using ThingSpeak  server. We can access this data from anywhere in the world.  So lets first start with how to make account with ThingSpeak.
First of all go to this website: https://thingspeak.com/users/sign_up  and signup for  ThingSpeak account. After you signup just login to your account and create your channel. When you login yo your account, you will see this window:
Now click on New channel. When login to your ThingSpeak server account first time, you will need see any thing like temperature and LM35 as these are the channels created by me. So you will create your first channel by clicking on new channel. When you click on new channel, you will find this window as shown below:
Now you need to fill the information in this forum. For example we are creating this channel for IOT based temperature data logger, so we will write "temperature" in name option and you can give any description to your project. In field you will select how many graphs you want to plot. So in our case we are using temperature sensor only so will select only one label and give it a name temperature. There is also one option "Make pubic". You can click this option also if you want to make your sever available to public. Now click on save your channel will be created.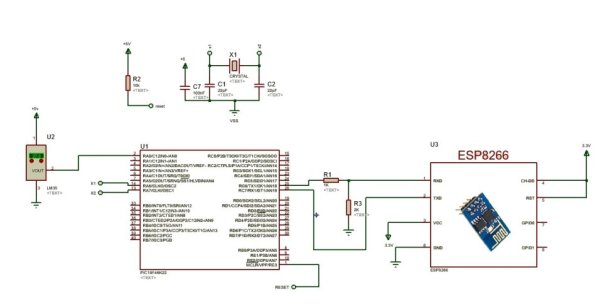 Now we need to get API keys which we will be using in our code to send and receive data from thingSpeak server. But in this project we are only sending data to server using pic microcontroller and esp8266 wifi module, so we will need only write API key. Now click on API keys options as shown below and copy write API key we will use it later in our program to upload data to server.
Read more: IOT based temperature data logger using esp8266 and pic microcontroller
Current Project / Post can also be found using:
iot based with pic
iot based with pic projects
temprature mesurment project
Digital temprature measurements project
Project Ratings:
Related posts