Highlighting the huge application potential of the company's advanced power management ICs (PMICs), e-peas has confirmed that its AEM10941 devices for photovoltaic energy harvesting are being incorporated into tracking equipment employed in Australian cattle ranches.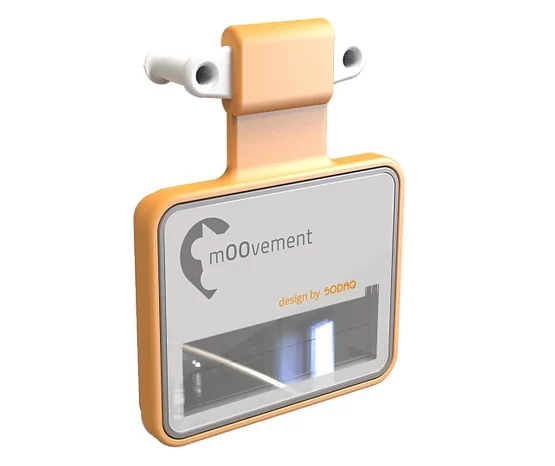 e-peas engineers worked in conjunction with the team at Dutch systems integrator SODAQ on the development and implementation of energy efficient livestock monitoring hardware for Brisbane-based client mOOvement.
Through use of mOOvement's smart tracker, valuable data on cattle herds can be acquired concerning their position and grazing patterns, with the ability to set alarms if individual animals are not moving or fenced boundaries have been breached. Attached to one of the cattle's ears, each tracker comprises an accelerometer, a LoRacommunication module (with built-in microcontroller) and a GPS transceiver, as well as a passive NFC tag.
When the design project was embarked upon, it was clearly paramount that the size and weight of the unit had to be kept as low as possible, in order to minimize the impact on the animal. This placed severe restrictions on the surface of the solar panel that could be accommodated (with it measuring slightly less than 19mm x 43mm in total and capable of generating 0.089W). Consequently, the power system needed to be ultra-efficient. In addition, as these trackers will remain on the cattle for a period of 5 years, robustness and long-term reliability were also essential attributes.
SODAQ's initial development work on this project started nearly two years back, with e-peas being engaged about 12 months ago. With very little power to draw upon, making full use of what was available was vital. The high energy conversion rate as well as the small footprint of the dual LDO regulated-output AEM10941 met this key criterion, as well as supporting a prolonged operational lifespan even in the uncompromising application environment of the Australian Outback, where exposure to extreme temperature conditions needed to be expected. Thousands of tracking units have already been deployed, with plans to scale further up in near future.
Read more: INDUSTRY-LEADING ENERGY HARVESTING TECHNOLOGY FROM E-PEAS ENABLES ACCURATE & CONTINUOUS ANIMAL TRACKING