How to take input with PIC18F4550 Microcontroller
Any microcontroller based system typically has an input and a corresponding output. Taking simple output with a PIC microcontroller has been explained in LED blinking with PIC18F4550. This article explains how to provide an input to the controller and get a corresponding output using PIC18F4550.
PIC18F4550 has a total of 35 I/O (input-output) pins which are distributed among 5 Ports. Each Port of a PIC microcontroller corresponds to three 8-bit registers (TRIS, PORT & LAT) which should be configured to use the Port for general I/O purpose. For more details, refer LED blinking using PIC.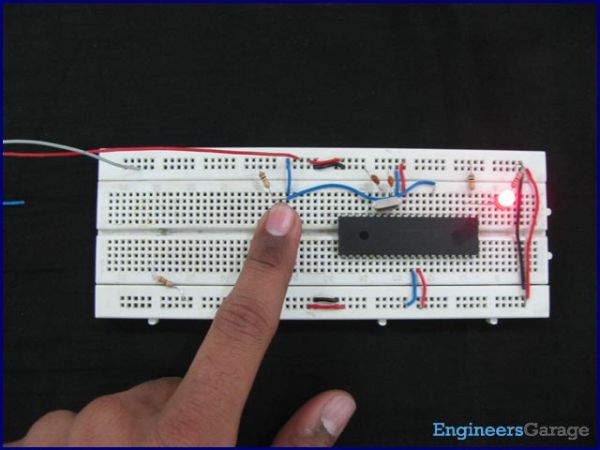 To configure a particular port/pin as input, the corresponding TRIS register/TRIS bit should be set to high (1). For output, the relevant TRIS register/bit should be set to low (0).
For example, for PortD
·         To set the entire PortD as input
| | | | | | | | | |
| --- | --- | --- | --- | --- | --- | --- | --- | --- |
| TRISD | Bit 7 | Bit 6 | Bit 5 | Bit 4 | Bit 3 | Bit 2 | Bit 1 | Bit 0 |
| Value | 1 | 1 | 1 | 1 | 1 | 1 | 1 | 1 |
·         To set only 3rd pin (RD2) of PortD as input
| | | | | | | | | |
| --- | --- | --- | --- | --- | --- | --- | --- | --- |
| TRISD | Bit 7 | Bit 6 | Bit 5 | Bit 4 | Bit 3 | Bit 2 | Bit 1 | Bit 0 |
| Value | – | – | – | – | – | 1 | – | – |
·         To set  1st pin (RD0) as output and 4th pin (RD3) of PortD as input
For more detail: How to take input with PIC18F4550 Microcontroller
Current Project / Post can also be found using:
Project Ratings:
Related posts
Leave a Comment