IBASE Technology Inc., a leading manufacturer of industrial motherboard and embedded systems, has rolled out the MB997 ATX motherboard for 9th Gen Intel® Core™ i7/i5/i3 and Xeon® processors. The Intel® C246/Q370/H310-based motherboard is designed for diverse applications, such as industrial automation, AI integrated systems, and smart retail systems.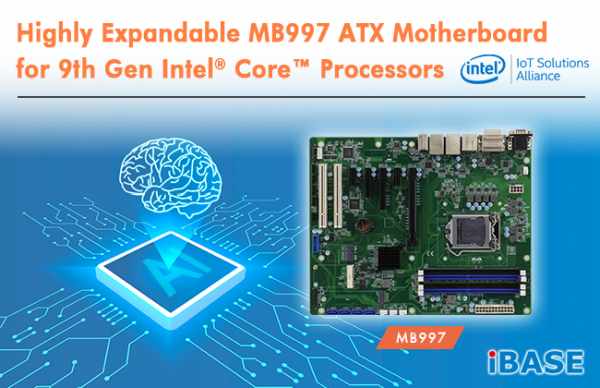 The latest MB997 delivers high-performance computing for demanding industrial applications while providing multiple connectivity, expansion and functionality to meet customer requirements. The board supports up to 7 expansion slots including 1x PCI-E(x16), 1x PCI-E(x8)/Gen3.0, 1x PCI-E(x4), 2x PCI-E(x1), and 2x PCI, as well as 6x USB3.1, 2x USB 2.0, 2x SATA 3.0, and 6x COM ports. It can handle up to 128GB DDR4 memory across four slots and support three independent outputs (HDMI 2.0a, DVI-D, and DisplayPort) with 4K resolution each.
The board is loaded with advanced features such as TPM (2.0) hardware-based security to ensure platform integrity, iSMART 4.0 technology that enables power saving, power on/off and power resumption, and also NVMe and CNVi interfaces that bring various performance improvements. Like all IBASE industrial motherboards, MB997 comes with strict revision control, modification control and long-term support. Operating systems supported are Win10 IoT Enterprise and Linux Ubuntu.
Read more: HIGHLY EXPANDABLE MB997 ATX MOTHERBOARD FOR 9TH GEN INTEL CORE PROCESSORS