Hailo has introduced a new line of M.2 and mini-PCIe cards for Linux systems. These new modules are equipped with up to 26-TOPS Hailo-8 NPUs. These Neural processing unit (NPU) are a specially designed chip that implements all the necessary control and arithmetic logic necessary to execute machine learning algorithms, typically by operating on predictive models such as artificial neural networks (ANNs) or random forests (RFs). According to Hailo, the new M.2 M-key is a 2242 form-factor accelerator which is powered by Halio-8, for the first time in a mini-PCIe format. They claim it to be the world's highest-performing AI M.2 module, winning by a large margin against Google Coral M.2 or AAEON AI Core cards.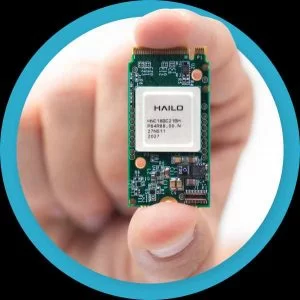 The Hailo-8 M.2 AI Acceleration Module implements PCIe Gen3 x4. On the other hand, the mini-PCIe accelerator will offer the same NPU, but with PCIe Gen3 x1. The acceleration cards can run on any Linux-based system adding support for Windows in the near future. Hailo claims its 17 x 17mm Hailo-8 chip greatly outperforms Google's Edge TPU and Intel's Movidius Myriad X on a TOPS per watt basis. The new Hailo-8 can run better and faster AI semantic segmentation and object detection applications.
Potential applications for these modules can be found in a smart city, self-driving car, home, and industrial security. Especially in those where multiple cameras and sensors are needed to be processed and analyzed on the go. The company has published some benchmarks to show its Hailo-8 M.2 module achieving 26 times higher frames per second AI performance than Myriad-X and 13 times higher than Edge TPU.
Read more: HAILO-8 POWERED M.2 ACCELERATOR CARDS CLAIM TO BEAT THE COMPETITION