Intel has launched three embedded 11th gen, 10nm SuperFin fabricated Tiger Lake ULP3 "E" processors, keeping in mind the growing need for embedded applications. These new processors join with the earlier released nine Tiger Lake U-series ULP3 and lower-power Y-series ULP4 chips. Taking benefit from these new chips Adlink has now released a COM Express Compact Type 6 module which is called the cExpress-TL. It supports all three of the new "E" models plus a fourth, yet to be announced Celeron 6305E.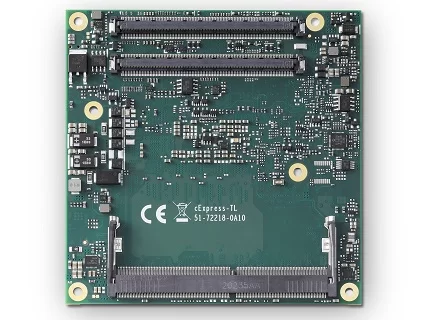 The Tiger Lake ULP3 lineup consists of at least seven new processors. These cover the latest three "E" Core models along with the unannounced Celeron 6305E, also there are three more rugged embedded variants with "RE" suffixes. The "E" stands to its end to indicate the "extended purchase availability" and a slightly lower base and Turbo frequencies than the similarly named ULP3 siblings without the "E" prefix. By lowering the base and turbo frequencies, they ensure a wider operating range of about 0 to 100ºC for the new Core i7-1185G7E.
Summary for the new four 11th Gen Tiger Lake ULP3 "E" series processors :
Core i7-1185G7E: quad-core with 1.2GHz (12W), 1.8GHz (15W), 2.8GHz (28W) and 4.4GHz Turbo; 96EU Iris Xe Graphics
Core i5-1145G7E: quad-core with 1.1GHz (12W), 1.5GHz (15W), 2.6GHz (28W) and 4.1GHz Turbo; 80EU Iris Xe
Core i3-1115G4E: dual-core with 1.7GHz (12W), 2.2GHz (15W), 3.0GHz (28W) and 3.9GHz Turbo; 48EU Iris Xe
Celeron 6305E: dual-core – other specs TBA
Intel also lists three other industrial "GRE" series processors, the Core i7-1185GRE, i5-1145GRE, and i3-1115GRE. These processors have the same specs and embedded features as their similarly named "E" counterparts. The sole features that take them apart from the "E" processors are that they add Intel Time Coordinated Computing (Intel TCC) and Time-Sensitive Networking (TSN) networking features.
Read more: THE NEW E VARIANTS OF INTEL TIGER LAKE LINEUP AND ADLINK CEXPRESS-TL