Four "EPM16x"-branded Pico-ITX SBCs has just been launched by Logic Supply. The boards, while compatible with Windows, come Ubuntu-Ready and are available in individual quantities starting at only $245 to $426 without SSD storage.
The four boards include the EPM160, EPM161, EPM162 and the EPM163. The EPM160, EPM161, and EPM162 are based on the Intel's dual-core Celeron N3350 while the top-of-the-line, leader of the pack, EPM163, is based on the quad-core Pentium N4200. The EPM16x boards all come with a MicroSD slot, as well as a USB 2.0 port and a serial header. Although the EPM162 and EPM163 have only two mini-DP connections, Logic Supply mentions that they support triple independent displays, presumably with the addition of a mini-PCIe or USB 3.0 add-on.
While the boards are the same in more ways than one, some of its features like the eMMC capacity improves as you go higher, for instance, like the  $426  EPM163 which comes with a Pentium N4200, 4GB LPDDR4, 64GB eMMC, mSATA, mini-PCIe, and 2x each of GbE, DP, and USB 3.0 ports, the EPM162, even though based on the same processors, moves up from the EPM161(2GB RAM) and the EPM160 (1GB RAM) with a 4GB(LPDDR4) RAM, an audio jack, dual 4K-ready mini-DP and GbE ports instead of one.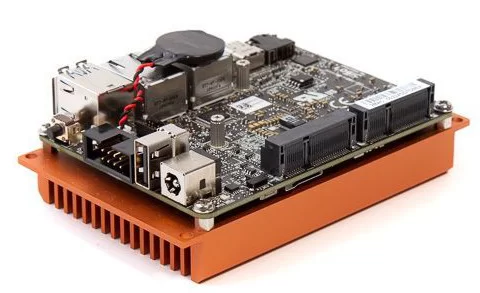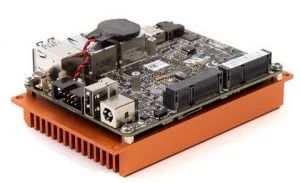 While WiFi is not a feature or an option on any of the boards,  they come with an half-height mini-PCIe slot for WiFi, 4G, or other add-ons, as well as an mSATA-ready, full-size mini-PCIe which is perfectly compatible with the 32GB-1TB mSATA SSDs sold by Logic Supply.
Specifications Listed For The EPM16x SBCs Include:
Processor — Intel Apollo Lake with Intel HD Graphics 500:

EPM160, EPM161, and EPM162 — Celeron N3350 (2x cores @ 1.1GHz/2.4GHz)
EPM163 — Pentium N4200 (4x cores @ 1.1GHz/2.5GHz)

Memory/storage:

1GB (160), 2GB (161), or 4GB (162, 163) LPDDR4 RAM (2133MHz)
8GB (161), 32GB (162), or 64GB (163) eMMC; no eMMC on EMC160
MicroSD slot
Optional mSATA via full-size mini-PCIe slot

Networking — 1x (160, 161) or 2x (162, 163) Gigabit Ethernet ports (Realtek RTL8111G)
Media I/O:

1x (160, 161) or 2x (162, 163) mini-DisplayPorts with 4K
Optional Consumer Electronics Control (CEC) module
Audio I/O jack (162 and 163 only)

Other I/O:

2 USB 3.0 ports
1x USB 2.0 port
1x RS-232 header

Expansion:

Full-height mini-PCIe slot with mSATA support
Half-height mini-PCIe slot

Other features — IP50 protection; system monitoring; optional heatsink, motherboard test and display and COM cables; 2-year warranty (opt. 3-year)
Operating temperature — 0 to 40°C
Power — 12V DC jack (AC/DC adapter on 162); power button and LED; optional auto power on feature
Dimensions — 100 x 73 x 22mm (114 x 73 x 39.5mm with heatsink)
Operating system — barebones; Ubuntu Desktop or Server 16.04 LTS or 18.04 LTS ($10); Windows 10 IoT Enterprise ($100).
Read more: FOUR APOLLO LAKE PICO-ITX SBCS