Since the recent move by Espressif Systems to go into mass production of the ESP32-S2 SoCs, modules and development boards, we have been seeing quite a number of arrivals from the company, one of which was the very first ESP32-based development board, the ESP32-S2-Saola-1 development board which started selling on Mouser and digikey for $8.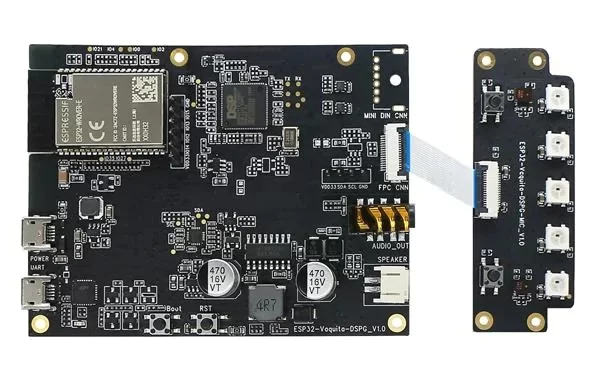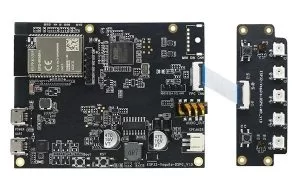 Again, the company has announced the arrival of a new ESP32-based development board with SDK for building voice-controlled IoT devices with core cloud service. The ESP32-Vaquita-DSPG development board is a certified solution that offers an easy, cost-effective and secure way to develop Alexa built-in smart devices with Alexa Voice Service and AWS IoT-cloud connectivity.
The board amongst others, has an Espressif's ESP32 wireless ESP32-WROVER-E module, DSP Group's DBMD5P Audio SoC and two Mic solutions with Acoustic Echo cancellation and beamforming. The wireless module comes embedded with ESP32-D0WD-V3, WiFi and Bluetooth connectivity, 64 Mbit SPI flash and 64 Mbit PSRAM for flexible data storage while the DBMD5P Audio SoC has far-field voice recognition enabled by the company's HDClear algorithms.
The ESP32-Vaquita-DSPG board also has an Audio Codec ES8311 that communicates with ESP32 to convert digital signals to analog signals and an audio Power Amplifier for external speakers up to 8W. It is the combination of this board with a companion phone app SDK that makes developing Alexa built-in IoT devices with Alexa Voice Service and AWS IoT-cloud connectivity easy, cost-effective and secure.
Other Features Of The Board Include:
FPC connector
2 digital microphone arrays on MIC board
Speaker and earphone connectors
USB-to-UART port
5V power supply input via USB Power port
3.5mm audio jack
Power On LED, 5x RGB LEDs
 Boot & Reset buttons, 2x function buttons
5V-to-3.3V power regulator
For Hardware Setup, You Will Need :
computer running Windows, Linux or macOS,
pair of headphones or an external 4-ohm speaker for audio output and
2 cables for power and debugging.
Read more: ESP32-VAQUITA-DSPG BOARD WITH SDK FOR ALEXA BUILT-IN IOT DEVICES WITH SEAMLESS VOICE INTEGRATION