Interesting how what started as a little discussion turned out to be one great solution at MAKE 100 as founders and owners of Staudt Technologies, Katharina and Yannic share their newly discovered solution with the world.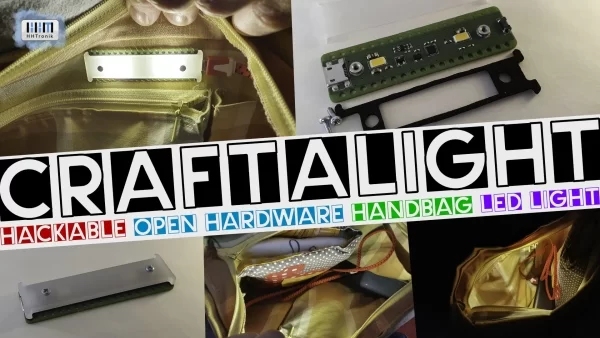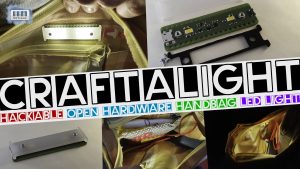 Having realized how really difficult it is to quickly find stuff in equipped handbags, backpacks, purses, etc., the couple decided to hack a solution to test with a small and light USB powered LED light that uses a magnetic sensor to hack and locate things easily in no time. All you need do to start enjoying brightened up accessories is just to sew the Craftalight and a magnet in your handbag and hook it to a power bank.
The Craftalight can also be used as a lightener for drawers, cabinets, glove-boxes, and suitcases or as an STM-8 microcontroller breakout board with low power LDO, white LEDs, and hall-effect sensors. It has high quality and low-stress design components; an STM8 value-line microcontroller and a hall-effect magnetic sensor, that detects the presence of a magnetic field, so the magnet on the lid of your bag switches the Craftalight on when the bag is open and off when the bag is closed.
Other features and specifications include:
Open-source hardware and firmware.
EPDM rubber seal that helps to prevent dust from gathering between the PCB and the acrylic diffuser
3200K warm white LEDs under the frosted acrylic diffuser window.
Hall-Effect switches to help detect whenever the purse is open.
Strong sew-able magnet
Sewable Electronics using the holes in the PCB
Adjustable brightness
10g Weight
70 x 20 x 6.5mm Dimensions
Current consumption: 230mA while fully on but about 60uA in the off state
LED rating: 150mA at 3V (but driven with 110mA max on the Craftalight)
The Craftalight can be powered via the 3.3v or 5V pads on the PCB or with a USB power bank, unfortunately, the kit does not come with a USB power bank so you'd have to get one for yourself.
Read more: CRAFTALIGHT – BRIGHTEN UP YOUR (HAND)BAGS