ControLeo2 Reflow Oven
Low-cost, high quality reflow oven for surface-mount PCB assembly at home. Get professional results consistently and reliably!
Boards like this one become easy to assemble at home
Last year we had great success with our ControLeo project, which was delivered on-time and was well received by our backers: https://www.kickstarter.com/projects/1471240030/controleo-an-arduino-compatible-controller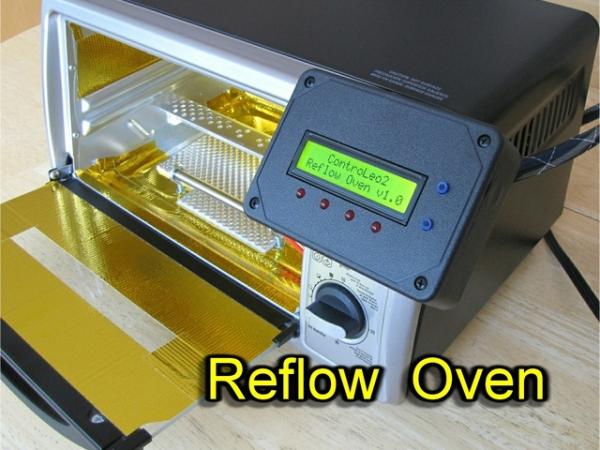 Since then we've sold hundreds of ControLeo's that are used as reflow oven controllers.  Two sites (that we know of) manufacture $100,000 worth of PCB's every month using ControLeo.  It is also being used by hobbyists, giving them the capability to do surface mount assembly at home.  We've learned a lot from building them, and from customer feedback – so we're introducing ControLeo2.
What makes ControLeo2 the best reflow oven controller?
Four outputs – control convection fans and heater elements individually.
Better heat distribution – having control over individual heating elements allows you to keep heat away from sensitive components.
Hot-spot elimination – intelligent software manages element on-time, reducing hot and cold spots in the oven.
Better heat direction – intelligent software controls whether heat comes from the top or bottom, depending on the reflow phase
Better current management – elements are turned on and off independently eliminating the current spikes common in single-relay controllers
Ready-to-run – no programming needed.  Just configure the fans/elements your oven has and the reflow wizard will do the rest.  No need to connect ControLeo2 to a computer or write any software!
Proven hardware – ControLeo2 is based on the original ControLeo, which has been field tested for more than a year.  ControLeo was based on the Arduino Leonardo – another proven design.
Open-source – ControLeo2 is fully compatible with the Arduino programming environment, and runs Arduino Leonardo sketches.  A library and 15 sample programs for ControLeo2 has been posted to GitHub already.
Reflow Wizard – Intelligent software makes it easy to get your oven up and running.  Ensures consistent results, run after run.
Reflow feedback – if you connect ControLeo2 to a computer you can track the reflow progress and get data to plot a reflow temperature graph.
J-STD-020 compliance – The Reflow Wizard is aware of the standards governing reflow ovens, and will auto-tune your oven so that it conforms to them.
Build or buy?
Building your own reflow oven is easy, especially when you follow our comprehensive guide, or select the $299 reward for a ready-to-run oven.
Reflow Wizard software
ControLeo2 ships with the "Reflow Wizard" software installed.  The software has 3 parts:
Test the outputs – helps you verify that the heater elements and convection fan (if applicable) work.
Oven setup – this part allows you to configure what each output controls.  You also set the maximum reflow temperature here.
Reflow – This is where the magic happens!
The Reflow Wizard starts off in "learning mode".  It looks at the configured hardware and maximum temperature, then takes an educated guess at how to achieve the correct reflow profile. It takes a few test runs to tune the duty cycle settings for each phase of the reflow cycle.  Once it conforms to the J-STD-020 reflow standard, it exits learning mode.  From then on, you'll get consistent runs time after time.  The Wizard will continuously monitor the runs and make tiny adjustments if necessary.
You can follow the Wizard's performance and commentary by connecting ControLeo2 to a computer using USB.
For more detail: ControLeo2 Reflow Oven
Project Ratings:
Related posts