Three year-old Sage Microelectronics of Hangzhou, China has produced an SSD controller IC that enables SSD densities of 5TB.
"Until now, cost-competitive SSD densities were limited to 1 TB by the maximum capacity of flash memory chips, and by the fan-out limitations imposed on flash controllers by the high number of interface traces required for each memory device," says Dr Jerome Luo, founder and president of Sage. "Sage decided to leverage the highly competitive pricing of flash memory cards—such as eMMCs—to develop an SSD controller that can effectively address up to 5TB of data."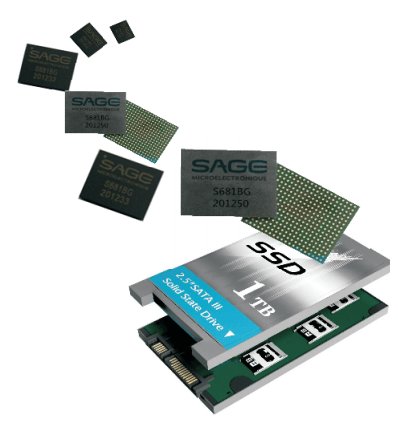 By using eMMCs as building blocks—instead of individual flash memory die–the capacity of SSDs can be significantly increased without a corresponding increase in the cost per-bit
Sage says it is currently shipping in volume 2.5TB SSD units on a single PCB with a standard 2.5-inch form-factor.
Sage's technology enables a single SSD controller IC to address up to 5TB of flash memory (on an array of 10 X 4 X 128GB eMMC BGA modules).
The Sage S681 device, currently in mass production, employs a SATA II interface to drive 10 channels of SD, MMC or eMMC flash memory cards, with each channel supporting up to 512GB of flash memory.
By offloading the management and high pinout interface of individual flash memory chips to the flash controller IC embedded in each flash memory card, the new Sage S681 can effectively manage ten memory cards, increasing SSD capacity ten-fold.
Replacing flash memory chips with flash memory cards does not increase per-byte cost for the Sage SSD controller architecture, because the market has driven flash controller IC pricing to become highly commoditised.
For more detail: China start-up enables 5TB SSDs