Cheap C-Media (?) sound card
This USB sound card that presents itself as C-Media is one of the cheapest sound cards available with price $1.1-$2 depending on vendor.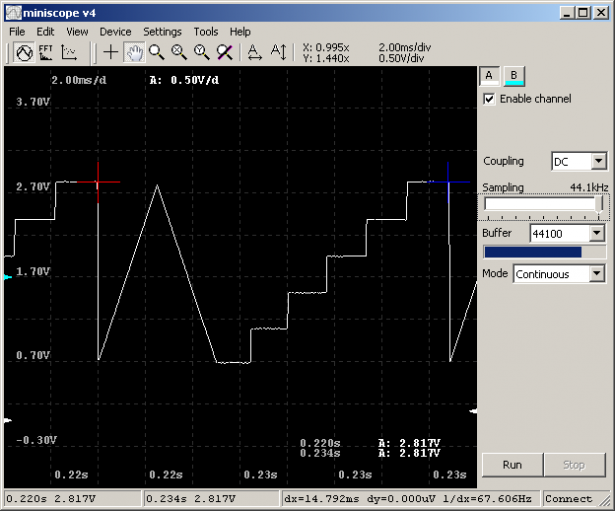 Device markings: HX2010-0705, production date 40th week of 2013 (or later?).
Device enumerates as composite device: sound card + HID input. HID input part is used for audio volume and mute control and it functionality is slightly broken – same as with multimedia keyboard it controls default sound card settings, not necessary settings for this specific device.
USB descriptor dump:
VID=0x0D8C PID=0x000C
Product string: C-Media USB Headphone Set
Audio Device Class + HID (composite device) 

Judging by the descriptors chip inside is identical as in previously described "C-Media" sound card version without any control keys.
Unlike the previous "C-Media" USB sound card I've tested and similar card from this thread it was easy to find point where DC signal component is not blocked:
according to device properties reported by Win7 it offers 44100 and 48000 Hz sampling
there is 2.23V voltage (DC offset for ADC) on the C6; output impedance of this offset source is relatively high – short-circuit current is 20uA; adding 120k resistor in series reduces it to 8uA
resistor in series (I've used 120k and software is calibrated for it by default) seems like the cheapest way to extend measured voltage range to 0-6V; noise measured in this configuration = 20mVpp
make sure to disable AGC and set fixed volume (by default plugin is calibrated for Volume = 0) for sound input associated with card (Win7 below):
For more detail:  Cheap C-Media (?) sound card
Project Ratings:
Related posts