CELLULAR PANIC BUTTON REVEALS AN NB-IOT FUTURE FOR PERSONAL SAFETY ALARMS
Nordic Semiconductor announces that Dutch startup, Montr, is employing Nordic's nRF9160 multi-protocol LTE-M/NB-IoT System-in-Package (SiP) in a small lithium battery-powered NB-IoT emergency alarm designed to protect people in vulnerable situations such as lone professionals at risk of physical attack or isolated accident, and seniors living at home.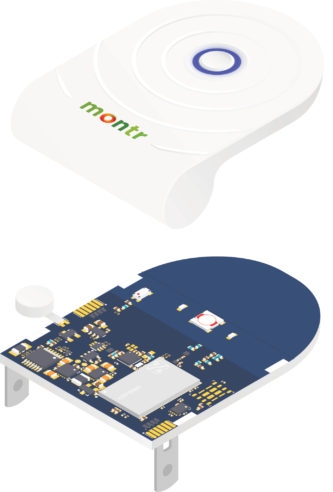 The 58 x 42 x 6 to 24mm 'Montr Emergency Button' weighs just 29g and requires zero user set-up. Activation is via a double button press (to reduce the chance of false alarms) that then notifies via encrypted comms an emergency response center of the user's identity (via a unique user ID linked to each button) and their GPSlocation. To reassure the user that help is on its way the button will vibrate and flash to confirm that the emergency request was successfully received by the emergency center.
"A little know-fact about narrowband NB-IoT is that it's range and penetration far exceed regular wideband cellular signals used by smartphones," comments Montr Founder and Director, Stefan Meulesteen. "This includes places where there is zero traditional cellphone coverage above ground and in our tests also includes locations such as deep basements where no other wireless technology could follow [in this scenario the GPS location would be predetermined at the emergency center because there would also be no GPS signal either]."
"There is no other wireless technology on the planet capable of delivering this kind of convenience and performance using a fully-licensed spectrum that covers almost the entire planet and is designed to deliver the reliability required for emergency applications. This is why I see the future of personal safety being all NB-IoT, and NB-IoT becoming the gold-standard for security applications. With the low cost and simplicity that our Montr Emergency Button demonstrates, I also predict that the use of emergency buttons will become a mandatory requirement of health and safety law across the globe for vulnerable lone-worker professionals."
Read more: CELLULAR PANIC BUTTON REVEALS AN NB-IOT FUTURE FOR PERSONAL SAFETY ALARMS
Project Ratings:
Related posts
Leave a Comment