RICHLAND, Wash. – Scientists have created a microbattery that packs twice the energy compared to current microbatteries used to monitor the movements of salmon through rivers in the Pacific Northwest and around the world.
The battery, a cylinder just slightly larger than a long grain of rice, is certainly not the world's smallest battery, as engineers have created batteries far tinier than the width of a human hair. But those smaller batteries don't hold enough energy to power acoustic fish tags. The new battery is small enough to be injected into an organism and holds much more energy than similar-sized batteries.
Details of the battery, created by scientists at the Department of Energy's Pacific Northwest National Laboratory, were published online recently in Scientific Reports, a member of the Nature collection of journals. Research about the battery's materials was also featured last year in the Journal of Materials Chemistry A.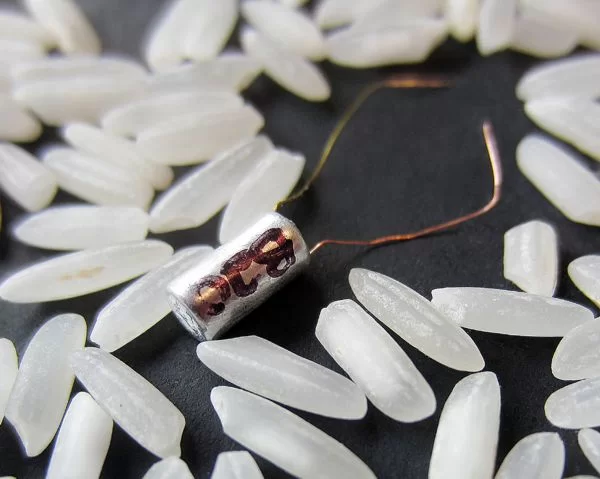 For scientists tracking the movements of salmon, the lighter battery translates to a smaller transmitter which can be inserted into younger, smaller fish. That would allow scientists to track their welfare earlier in the life cycle, oftentimes in the small streams that are crucial to their beginnings. The new battery also can power signals over longer distances, allowing researchers to track fish further from shore or from dams, or deeper in the water.
"The invention of this battery essentially revolutionizes the biotelemetry world and opens up the study of earlier life stages of salmon in ways that have not been possible before," said M. Brad Eppard, a fisheries biologist with the Portland District of the U.S. Army Corps of Engineers.
"For years the chief limiting factor to creating a smaller transmitter has been the battery size. That hurdle has now been overcome," added Eppard, who manages the Portland District's fisheries research program.
The Corps and other agencies use the information from tags to chart the welfare of endangered fish and to help determine the optimal manner to operate dams. Three years ago the Corps turned to Z. Daniel Deng, a PNNL engineer, to create a smaller transmitter, one small enough to be injected, instead of surgically implanted, into fish. Injection is much less invasive and stressful for the fish, and it's a faster and less costly process.
"This was a major challenge which really consumed us these last three years," said Deng. "There's nothing like this available commercially, that can be injected. Either the batteries are too big, or they don't last long enough to be useful. That's why we had to design our own."
For more detail: A battery small enough to be injected, energetic enough to track salmon