Description
nRF2460 is a highly integrated 2.4 GHz RF Mono Audio-Streamer IC. It integrates a 4 Mbps 2.4 GHz GSK radio and a protocol stack optimized specifically for mono audio streaming. The combination of 16-bit LPCM uncompressed audio quality, latency as low as 20 ms, low power operation and a low total solution cost makes nRF2460 an ideal solution for gaming, home karaoke microphones, and wireless subwoofers
The on-chip protocol stack is based on an Adaptive Frequency Hopping (AFH) scheme that ensures excellent co-existence performance with Wi-Fi and Bluetooth. It also features a Quality-of-Service engine that continuously optimizes audio quality by controlling re-transmission of data and by minimizing any audible effect of corrupted or missing data.
nRF2460 supports an I2S interface for direct audio interfacing with an external ADC/DAC and it also supports SPI/2-wire options for interfacing with an external microcontroller.
nRF2460 is available in a compact 36-pin 6×6 mm QFN package.
Features
Low cost, low power 2.4 GHz RF solution for streaming uncompressed CD quality audio
Supports up to 16-bit 32 kHz uncompressed mono audio
Support for synchronizing two receivers for a 2 microphone set-up
Latency as low as 20 ms
Embedded custom protocol stack for audio streaming based on Adaptive Frequency Hopping (AFH) for optimal co-existence performance
I2S interface for direct audio interfacing with an external ADC/DAC
Applications
Gaming microphones
Home karaoke microphones
Subwoofers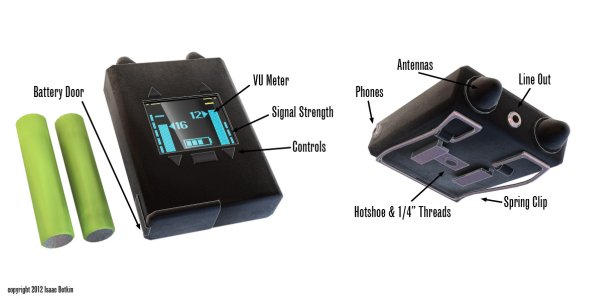 Nordic has introduced an wireless audio streamer IC that runs for 100hours on two AAA cells.
Called nRF2460, the 2.4GHz streamer delivers uncompressed 16bit PCM mono and is aimed at applications like microphones, sub-woofers, musical instruments, and gaming mics.
"With the nRF2460, we have taken a completely different route to other wireless audio solutions on the market," claimed Nordic product manager Thomas Embla Bonnerud. "Instead of trying to make a one-size-fits-all solution, we focused exclusively on delivering a cost and power optimised solution for wireless mono audio."
It was developed with audio converter specialist AKM Semiconductor.
"This could not have been achieved without cooperation with AKM. Their insight into the fundamentals of preserving audio quality and understanding of the practical aspects when applying this to wireless audio was indispensable," added Bonnerud.
For more read: Audio streaming for 100h on two AAA cells