Arrow Electronics and Exor Embedded have announced the availability of nanoSOM nS02, a high-performance, energy-efficient system on module (SOM) for IoT edge deployments. nS02 is based on the 800MHz version of STMicroelectronics' STM32MP1 microprocessor. The module serves as a full production design and Arrow is also offering a supporting development kit.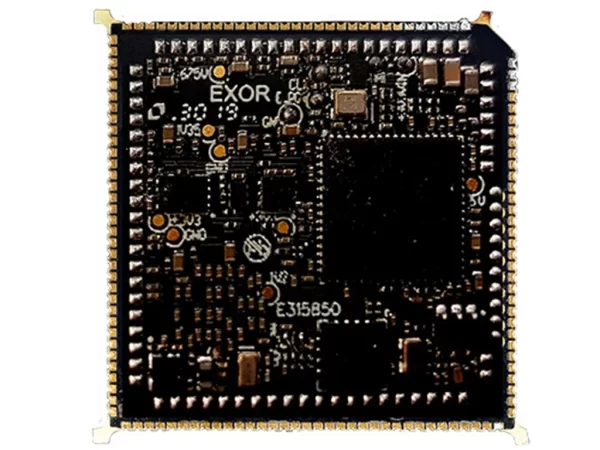 The nanoSOM nS02 is an innovative, ultra-compact and cost-effective SOM based on the STM32MP1 with dual Arm® Cortex® -A7 cores and a Cortex-M4 core plus a 3D graphics-processing unit (GPU) that supports advanced human-machine interface (HMI) development. The nS02 is well suited for applications requiring IoT connectivity, multimedia capabilities and high security in connectivity, especially as an Industry 4.0 embedded solution.
The nS02 is a rugged solution and is soldered directly onto the main carrier board, without the need for separate connectors that could reduce the reliability of the system.
At only 25.4 x 25.4 x 3.0mm, nanoSOM nS02 provides flexibility for developers of the new generation of smart IoT products, enabling them to design products that are extremely compact and ultra-slim. Target applications include smart IoT controllers and gateways, cloud edge interfaces, and building automation.
The nanoSOM nS02 includes a production-ready Linux RT board support package (BSP) and fully supports the Exor XPlatform, which includes Exor Embedded Open HMI software, Corvina Cloud IIoT platform and IEC61131 CODESYS or Exor xPLC runtime.
An optional OpenHMI software platform supports the design of high quality, user-friendly SVG and HTML5 graphical user interfaces, and assures device connectivity with over 200 communication protocols. MQTT and OPC-UA interfaces are also available together with cloud connectivity for telemetry and remote assistance using OpenVPN software.
Read more: AN ULTRA-COMPACT, HIGH PERFORMANCE SOM FOR IOT EDGE DEPLOYMENT IN SMART APPLICATIONS