Driver eases high-speed ADC inputs
Description
The MAX9626/MAX9627/MAX9628 are low-noise, low-distortion, and high-bandwidth differential amplifier/ADC drivers for use in applications from DC to 1.35GHz. The exceptional low input-referred noise and low distortion make these parts an excellent solution to drive high-speed 12-bit to 16-bit pipeline ADCs. The output common mode is set through the VOCM input pin, thus eliminating the need for a coupling transformer or AC-coupling capacitors. The ICs feature shutdown mode for power savings and are offered in a 12-pin, 3mm x 3mm TQFN package for operation over the -40°C to +125°C temperature range.
Key Features
Low-Voltage Noise Density 3.6nV/
Low Harmonic Distortion

HD2/HD3 of -102/-105dB at 10MHz
HD2/HD3 of -86/-80dB at 125MHz

Factory Set Gain Options of 1V/V, 2V/V, and 4V/V
1.35GHz Small-Signal Bandwidth
Adjustable-Output Common-Mode Voltage
Differential-to-Differential or Single-Ended-to-Differential Operation
25µA Shutdown Current
Single-Supply Voltage +2.85V to +5.25V
Small, 3mm x 3mm 12-Pin TQFN Package
Applications/Uses
ATE
Communication
High-Performance Instrumentation
Medical Imaging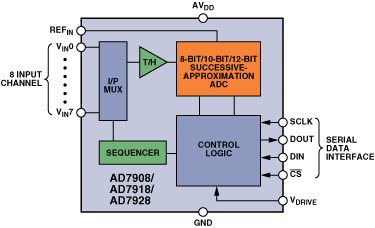 For driving the difficult input impedance of fast pipeline ADCs, Maxim has announced a family of differential amplifiers.
Rather than used external resistors, MAX9626-9628 integrate their gain resistors to cut parasitics and therefore increase bandwidth, which peaks at 1.35GHz.
"These devices are ideal for driving 12 to 16bit pipeline ADCs in communication, medical imaging, automatic test equipment, and high-performance instrumentation applications," claimed the firm.
The output common mode is set through the VOCM input pin, eliminating the need for a coupling transformer or capacitors in some circumstances.
Negative input signals are acceptable with single-supply operation.
The devices are available in a 12pin 3x3mmTQFN package and are specified from -40 to 85C.
For more read: Driver eases high-speed ADC inputs
Project Ratings:
Related posts