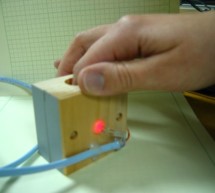 ABSTRACT The heart rate is an important measure of health and physical fitness. Medical professionals rely heavily on the rate as a measure of health status and use it to prescribe treatment to individuals. Athletes value the heart rate highly as a tool for regulating frequency and intensity of workouts because the rate provides a quantification of exercise intensity. By looking at the rate, athletes can ta ...
Read more

›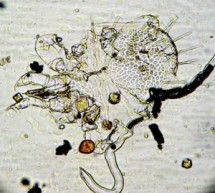 Do you ever wonder what is in the air you breathe? Or maybe you have hay fever and want to know what kind of pollen makes you sneeze in spring? Questions like that prompted me to build a simple device for capturing airborne particles so they can later be examined under a microscope. Before you take your next breath, here is an important piece of advice: DON'T! It turns out that the air is full of pollen, du ...
Read more

›
When I first built the Heart rate measurement through fingertip project, the infrared LED and photodiode used for finger photoplethysmography were actually from salvaged parts, and therefore, I could not provide specifications for them in the article. As a result of that it takes quite a bit of time to replicate that project with a different set of IR LED and photodiode as the values of the current limiting ...
Read more

›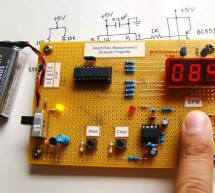 Step 1: Sensor assembly The sensor unit consists of an infrared light-emitting-diode (IR LED) and a photo diode, placed side by side, and the fingertip is placed over the sensor assembly, as shown below. The IR LED transmits an infrared light into the fingertip, a part of which is reflected back from the blood inside the finger arteries. The photo diode senses the portion of the light that is reflected back ...
Read more

›
Laser show for poor man Here's another useless but cool looking "must build" gadget for every romantic geek. Let me introduce PIC microcontroller based three axis laser spirograph. Step 1 Gathering stuff Design is quite simple and employs regular parts and components but you are free to change/modify it in way you like. At first prototype I used blank DVD as reflective material but later I discovered more p ...
Read more

›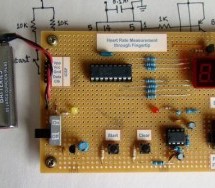 Introduction Heart rate measurement indicates the soundness of the human cardiovascular system. This project demonstrates a technique to measure the heart rate by sensing the change in blood volume in a finger artery while the heart is pumping the blood. It consists of an infrared LED that transmits an IR signal through the fingertip of the subject, a part of which is reflected by the blood cells. The refle ...
Read more

›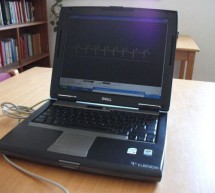 ECG on your laptop! That's right! This Instructable shows you how to build a device that enables you to do an electrocardiogram on yourself, your family or your friends! All you need is intermediate-level knowledge on electronics, access to Ye' Ol' Electronics Shoppe (or online shopping if preferred) and a laptop. The device is composed of an amplifier/filter and a microprocessor unit, everything surrounded ...
Read more

›