Microchip adds calibrator to low drift amplifier
The MCP6N11 single instrumentation amplifier is optimized for single-supply operation with rail-to-rail input and output performance. Two external resistors set the gain, minimizing gain error and drift over temperature. The supply voltage range of 1.8V to 5.5V is low enough to support many portable applications. All devices are fully specified from -40 to +125C.
Features
Rail-to-rail Input and Output
Gain Set by 2 External Resistors
Enable/Vos Calibration Pin
Operating Voltage Range: 1.8V to 5.5V
No Common Mode Crossover Distortion
Extended Temperature Range: -40 to +125C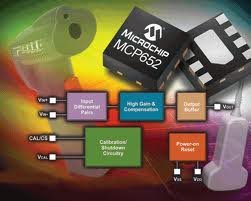 Introduction video to the MCP6N11 & MCP6V2x Wheatstone Bridge Reference Design located below
Microchip has announces its first instrumentation amplifier and it has designed a novel on-chip calibration circuit.
The instrumentation amp's calibration circuit is designed to allow of a low initial offset voltage and provides a means of controlling offset drift. "This results in higher accuracy across time and temperature," said the supplier.
The MCP6N11 amp has gain bandwidth product of 500kHz, and a hardware shutdown pin for power saving.
The device works of 1.8V and its rail-to-rail input and output operation enables full-range use, even in low-supply conditions.
The device is intended for industrial and medical applications.
The chip is offered in 8-pin SOIC and 2x3mm TDFN package options.
Development of the MCP6N11 instrumentation amp is supported by Microchip's MCP6N11 Wheatstone Bridge Reference Design (ARD00354).
For more read: Microchip adds calibrator to low drift amplifier
Project Ratings:
Related posts