Only 0.5 mm thick (or thin) SMD LED Kungbright KPHCM-2012 can be placed practically everywhere, without increasing an overall PCB thickness.
LED production technology currently surprises mainly on the field of white LEDs for lighting (SSL). But also color LEDs are getting still better as for the efficiency or for example in case of series Kingbright KPHCM – in miniature dimensions. Concretely series series KPHCM has standard "0805 SMD" (2,0×1,25mm) dimensions, but unusual is it height – only 0.4mm. In reality, it appears so, that this LED will certainly be one of the lowest profile components on a PCB, hardly higher than a drop of a solder. This low-profile LED finds its place in all space-critical applications, for backlight of switches, displays and similar.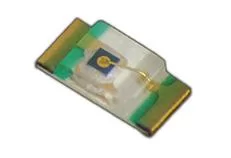 Stock type – KPHCM-2012SECK is the red-orange LED (601 nm) with a relatively high luminiosity of 240 mcd (typ.). Similarly like at majority of standard diodes, maximum continuous current is 20 mA (abs. max. 30 mA). Detailed description will provide you the Kingbright KPHCM datasheet. Should you be interested in even smaller and thinner LED, than the KPG-1005 (1,0×0,5×0,2mm) series will be the right choice for you.
In case of interest in any Kingbright LED, please contact us at [email protected].
For more detail: We have for you LED thinner than a solder drop