A Coventry-based company which develops digital printing systems used in high resolution photographic printing believes the system has the resolution to print electronic circuits.
LumeJet, a spin-out from Warwick University, developed a three-colour RGB digital print head which is used in an inkless digital photographic printer.
The company plans to use the printing technology for printing electronic devices such as flexible displays and OLEDs.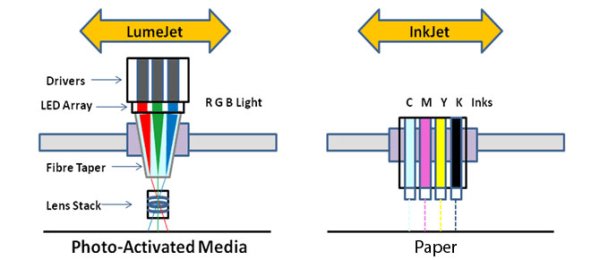 Rather than conventional inkjet printing which coats paper with ink, the printing system uses light of various wavelengths, spot sizes and power to print or pattern photo-activated media.
The digital print head has an array of 288 LEDs, comprising 96 x red, 96 x green, 96 x blue LEDs. The light from the LED array is transmitted through a fibre optic taper bundle, via a relay lens system to expose elements of the image onto the paper, approximately 6mm wide.
The LEDs are arranged as three pairs of ODD/EVEN rows (RR, BB, GG), 48 LEDs per row for each colour, offset by an LED width.
According to the company, this allows a small Gaussian overlap between each pixel to help reduce the risk of micro-banding of the image.
The fibre taper is a 40mm wide, 18-micron fibre bundle is heated and pulled to form a coherent 5:1 reduction, effectively creating a "lens". Many millions of individual fibres are stretched in such a way that they retain their alignment (do not cross over) whilst their width is reduced to a dimension around 3.5-microns.
Light from each LED passing through the taper reduces to a 0.060mm spot at the other end. According to the company, this is better than 4000 dpi inkjet quality.
For more detail: UK firm uses LED array to print electronics