It is possible now to turn your iPad into a second display using Luna Display! Luna Display is a hardware solution that extends your Mac desktop to your iPad, creating a wireless second monitor maintaining high resolution.
In fact, Luna is one of Astro HQ products, a startup working on delivering tools for designers and animation creators. It is originally  founded by two ex-Apple engineers, a reason to understand the loyalty for Apple products!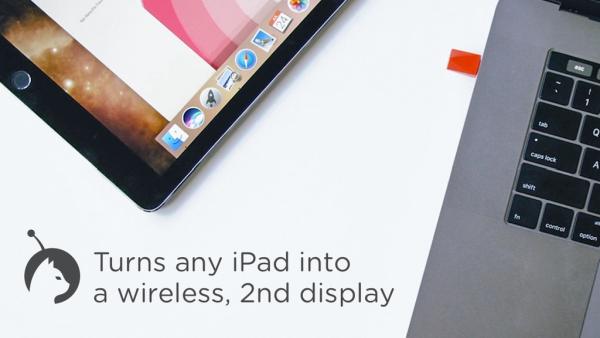 With no complicated settings, you can set up Luna in seconds using your already available Wi-Fi. This feature is Powered by Astro HQ LIQUID technology. Anyway if Wi-Fi is not available, USB can be the alternative.
 LIQUID technology provides:
Uncompromised image quality
Lightning fast speeds
Lag-free performance at 60 frames per second
GPU acceleration, so your Mac stays fast and optimized
Hand optimized ARM assembly to maximize battery life
Velocity Control, which analyzes network conditions dozens of times per second
System Requirements
Works with any modern Mac – Luna requires a Mac running macOS 10.10, Yosemite (or later). Recommended configurations: MacBook Air (2012 and later), MacBook Pro (2012 and later), Mac mini (2012 and later), iMac (2012 and later), Mac Pro (Late 2013).
Works with any modern iPad – Luna requires an iPad running iOS 9.1 (or later): iPad 2 (or later), any iPad Mini and any iPad Pro.
You can perfectly use Luna Display with the software Astropad, a software that allows you to draw directly into your Mac apps using your iPad and it works over wifi or USB.
"Luna extends both Astropad Standard and Astropad Studio to provide the ultimate drawing experience with the best second screen solution for iPad. If you are a creative professional, Luna has been designed with you in mind."