Designed for use in 4K Cameras, Gaming, Digital Signage, and other Consumer and Industrial IoT Devices.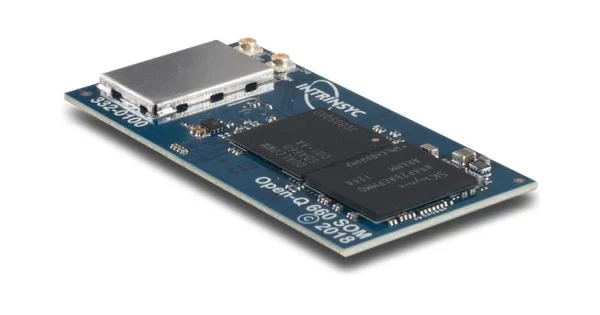 Intrinsyc Technologies Corporation, a leading provider of solutions for the development and production of embedded and Internet of Things (IoT) products, today announced the availability of the Open-Q™ 660 µSOM (micro System on Module) and Development Kit.
Intrinsyc's Open-Q™ 660 µSOM is an ultra-compact (50mm x 25mm) production-ready embedded computing module.  The SOM is powered by the Qualcomm® SDA660 system on chip (SoC), a product of Qualcomm Technologies, Inc., and is designed to support high-performance, intelligent, on-device processes utilizing heterogenous compute capabilities to power a variety of high-performance consumer and industrial IoT devices.
The Qualcomm SDA660 features eight Qualcomm® Kryo™ 64-bit 260 cores that are divided in two clusters – a fast cluster of four cores with up to 2.2 GHz and a power saving efficiency cluster of four cores with up to 1.8 GHz. Additional high-end features in Qualcomm SDA660 mobile platform include the powerful Qualcomm® Artificial Intelligence (AI) Engine), Qualcomm Spectra™ ISP, and Qualcomm® Hexagon™ 680 DSP with Hexagon Vector eXtensions (HVX), designed to support Caffe2 and Tensorflow for machine learning and image processing.
Intrinsyc's Open-Q™ 660 µSOM is an ideal platform to power the growing demand for consumer and industrial IoT devices capable of artificial intelligence and machine learning," said Cliff Morton, Vice President, Solutions Engineering, Intrinsyc. "To assist with integration of our System on Modules into customer products, Intrinsyc offers strong capabilities in all phases of product development. Services include everything from electrical and mechanical design to software development, including camera and audio tuning, artificial intelligence, power optimization, device management, security, and more.
Read more: TINY, OCTA-CORE ARM MODULE (QUALCOMM SDA660) TARGETS AI ON THE EDGE