XYNX (pronounced ikz-sync) is being launched on Crowdsupply by Fairwaves. it is based on the success of the Octopack SDR (software-defined radio) and the feedback the firm received from the original Octopack users. It is designed for situations or use cases that involve large band of spectrum monitoring or massive MIMO system and it comes in four different variations including; XYNC Quadro, XYNC Quadro 6, XYNC Octo and XYNC Octo x2.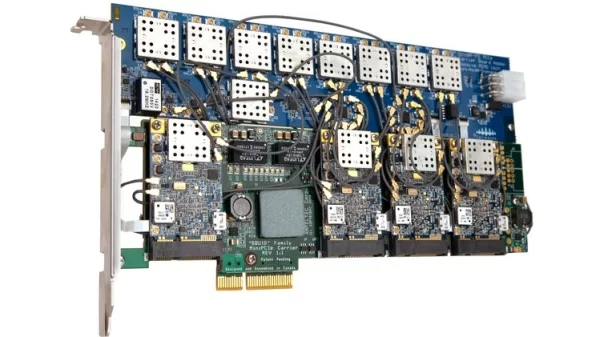 The major difference between the models is the number of XTRXs and communication channels. The XYNC Quadro and Quadro 6 both come with four XTRXs and 8×8 channels for transmitting and receiving, with the two models transmit at the same frequency range (30MHz-3.7GHz) but receive at a different frequency range (Quadro: 30MHz-3.7GHz, Quadro 6: 1.8GHz-6GHz), While the XYNC Octo and Octo x2, on the other hand, both have the same frequency range at the transmitter and receiver but a different number of the channel for transmitting and receiving (octo: 16×16 channel, octo x2: 32×32 channel) and XTRXs (for octo and octo x2 having 8 and 16 XTRXs respectively). However, two or more XYNC board can be connected together to increase the number of RX/TX channels to what you desire but requires an external clock and 1pps signal distribution circuitry to do so (e.g., two XYNC Octos give you 32 TX and 32 RX channels).
One of the great things about the XYNC is the possibility of Synchronizing the XTRXs (which provides two transmit channels and two receive channels) which forms a single XYNC board. For instance, two XYNC Octo (with eight XTRX units) has 16 transmit and 16 receive channel each, can be synchronized and to get 32 transmit and 32 receive channels. All XYNC are equipped with a special board to facilitate this synchronization of the XTRX units along with cables for all of the TX/RX ports, the GPS port, and metal installation brackets.
Due to the possibilities of synchronizing, the maximum achievable RF bandwidth is a function of the individual XTRX RF bandwidths since XYNC is based on multiples of the synchronized XTRX SDRs.
On the digital side, each XTRX unit is connected to a PCIe switch which multiplexes the XTRX PCIe lanes into a single PCIe 2.0 x4 connector. This makes it easy to install into a standard PC in a very compact way – just don't forget to provide enough airflow for cooling, as it can get quite hot.
Read more: THE ULTIMATE LOW-COST MASSIVE MIMO SDR, WITH UP TO 32×32 TRANSMIT/RECEIVE CHANNELS