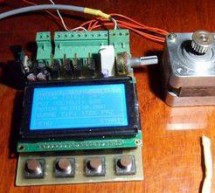 Unipolar stepper motor driver circuit lcd graphics display control PIC18F4520 GLCD with WG12864B is provided. To the use of MOSFETs in the output irfz44 12-24 volts engines can take up to 4.5 amps. Take...Electronics Projects, PIC18F4520 Unipolar Stepper Motor Driver Circuit "microchip projects, microcontroller projects, " Unipolar stepper motor driver circuit lcd graphics display control PIC18F4520 GLCD wi ...
Read more

›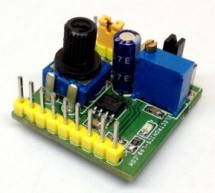 This stepper pulse generator project is an easy solution for stepper controller drive. It's a very important tool and can be used to drive stepper in standalone mode.  It generates square wave pulses in frequency range 0-50Khz. This project has multiple features which are a must for stepper controller. It has on board frequency generator with wide span of frequency, Slide switch for direction control and ju ...
Read more

›
The Project is based on LV8727E IC from ON Semiconductor. The LV8727 is a PWM current-controlled micro step bipolar stepping motor driver. This driver can provide eight ways of micro step resolution of 1/2, 1/8, 1/16, 1/32, 1/64, 1/128, 1/10, 1/20, and can drive simply by the step input. This Bipolar Driver works with supply input 9V to 36V (Replace L317 with L317HVT for supply input up to 45V DC). Load cur ...
Read more

›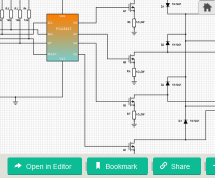 This unipolar stepper motor driver circuit is used to drive a 12V unipolar stepper motor with a current rating of 1.25A. It uses PCA9537 IC, which is a 10-pin CMOS device that provides 4 bits of General Purpose I/O (GPIO) expansion with interrupt and reset for I2C-bus/SMBus applications. It consists of a 4-bit configuration register (input or output selection), 4-bit input port register, 4-bit output port r ...
Read more

›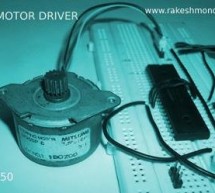 Stepper Motor Tutorial In this tutorial we are going to drive a Single unipolar stepper motor using PIC18F4550 Microcontroller in various different stepping modes. The source code and Project files are free to download at the end of this page. Stepper motor due its excellent features is very famous in between hobbyist for various robotic applications. Running DC, Stepper motor and servo is the most basic re ...
Read more

›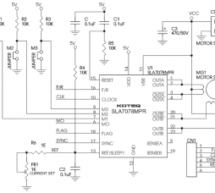 This cranial electrotherapy stimulator is a medical treatment that makes use of electrical energy to treat anxiety, depression and insomnia. It is a therapeutic tool to help heal the body, which primarily uses an electrical current to stimulate nerves and muscles through the skin. This device uses a few components such as 555 timer, decade counter and the TE connectivity's slide switch and trimmer. This TE ...
Read more

›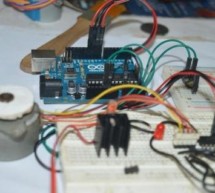 Stepper Motor Drivers USB Stepper Motor Driver Stepper Motor Driver PIC18F4550 --Stepper Motor schematics Stepper Motor Speed Controller Stepper Motor driver PIC18F2550 IR Interterface to Stepper Motor Stepper Motor Speed controller using PIC18F4550 This tutorial is all about tuning the speed of a stepper motor using a potentiometer. The idea is to throttle up or down the speed of a stepper motor using inbu ...
Read more

›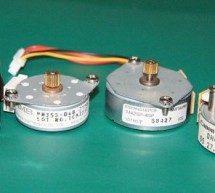 Here is a simple example for PIC microcontroller interfacing  Unipolar stepping motor with assembly code. Instead of using a dedicated stepper motor driver IC like very popular L293D   PIC16F with ULN2003A were used. Just 4 I/O Pins are required to drive each coil of the motor. By energizing each coil in a particular sequence you can control the speed and direction of the motor. 4 lower bits of PORTC are us ...
Read more

›
Hello friends, this article, unipolar stepper motor control circuit related work. The purpose of this circuit is connected to unpolar stepper motor I designed buttons, select the number of steps we determined the direction, speed, and with it a system that implements the step motor commands. Pic16f877 microcontroller circuit. When first working circuit stepper motor 120 degree back and forth by applying sig ...
Read more

›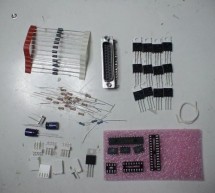 Parallel Port 3 Axis CNC Driver, Opto-Isolated, Unipolar Steppers Controls 3 Unipolar Stepper Motors, for use with CNC Machines. Simple driver with automatic coil  shutdown, to ensure efficient operation.  Opto-isolated for protection of the P.C. Supports most parallel port based CNC software, such as KCAM. Supports up to 20 watts per Phase. Or 2 Amps per phase. Full Kits with all the parts needed to recrea ...
Read more

›