Microsoft Azure Sphere is a solution for creating highly-secured, connected, MCU-powered devices. Azure Sphere brings together the best of Microsoft's expertise in cloud, software and silicon—resulting in a unique approach to security that starts in the silicon and extends to the cloud. Together, Azure Sphere certified MCUs, the Azure Sphere OS, and the Azure Sphere Security Service provide you with the con ...
Read more

›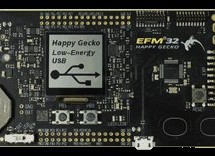 Silicon Labs is producing ARM M0-based USB-enabled MCUs called Happy Gecko which aim to lower USB power drain and simplify USB connectivity. Adding USB interfaces to portable, battery-powered connected devices can double the application current consumption, says Silicon Labs. Happy Gecko USB MCUs have five energy modes enabling applications to remain in an energy-optimal state by spending as little time as ...
Read more

›
Texas Instruments has released a family of low-power wireless microcontrollers, claiming 10 year life on a single coin cell in a ZigBee or 6LoWPAN light switch. Applications in fitness and internet-of-things applications are also expected, and the 6LoWPAN versions comes with an in-built IPv6 address. Embedded World: Your Electronics Weekly guide » The completely new design combines an ARM Cortex-M3 with rad ...
Read more

›
Spansion is sampling 96 new variants of its ARM-based microcontrollers. Volume production is planned for Q1 2015. Based on the ARM Cortex-M4F core, the MCUs have a 200 MHz operating frequency and support a diverse set of on-chip peripherals for enhanced human machine interfaces (HMIs) and machine-to-machine (M2M) communications. Applications include factory automation, industrial IoT, motor control, office ...
Read more

›