Texas Instruments has released a family of low-power wireless microcontrollers, claiming 10 year life on a single coin cell in a ZigBee or 6LoWPAN light switch.
Applications in fitness and internet-of-things applications are also expected, and the 6LoWPAN versions comes with an in-built IPv6 address.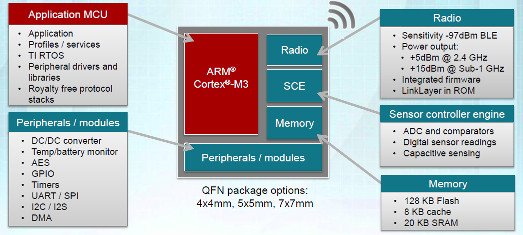 Embedded World: Your Electronics Weekly guide »
The completely new design combines an ARM Cortex-M3 with radios and protocol stacks for Bluetooth Smart, 6LoWPAN, ZigBee, RF4CE or sub-1GHZ comms.
"This device will cover anything we could do with our previous wireless microcontroller devices, and more," TI general manager Oyvind Birkenes told Electronics Weekly.
The radio is partly DSP-based and includes another processor core – a Cortex-M0 – to run firmware and link layers.
Included are royalty-free software stacks, the lower layers of which are programmed into on-board ROM. Also in ROM are part of TI's own real-time operating system (RTOS) and some of the drivers for on-die peripherals.
As is becoming common in low-power MCUs, peripherals can run while the main core is asleep.
In this case the important block is the 'sleep controller'. Using this, the 12bit DAC can sample at 10Hz for 3µA, for example, and the capacitive touch controller "can wake-on-sense for a couple of microamps," said Birkenes.
Unusually amongst microcontrollers, there is a dc-dc converter running at all times – even in 1.1µA sleep at 3V (memory retained and real-time-clock running).
Current consumption peaks around 6mA for Bluetooth Smart and the other 2.4GHz, and the sub-1GHz radio takes a little less.
| | |
| --- | --- |
| ARM Cortex-M3 running CoreMark | 61μA/MHz |
| Running CoreMark at 48MHz | 2.9mA peak |
| Coremark at 48MHz | 142 |
| Rx current | 5.9mA peak |
| Tx current | 6.1mA peak |
| Sensor controller during sleep | 8.2μA/MHz |
| Sleep with RTC and full memory retention | 1μA |
Radio parameters include -100dBm sensitivity for Zigbee and 6LoWPAN and -120dBm for sub-GHz.
TI has run the processor through EEMBC new ULP benchmark, where it scored 143.
Different parts get different radios – see list below.
CC2650 can implement all the 2.4GHz interfaces – Bluetooth Smart, 6LoWPAN, ZigBee and RF4CE, but not simultaneously as parts of the hardware are reconfigured and not all the stacks will fit in internal memory at the sam time, said Birkenes. However, external memory can be used and the radio can switch between modes on-the-fly.
The sub-GHz radio is capable of 10km range with ultra-narrow-band signals out of the box, and up to 25km range with a 20dBm range extender.
CC2620 has a RF4CE for use in hand-held radio remote controls.
For voice command, said Birkenes, its on-board Cortex-M3 is powerful enough to for audio compression – the idea is that the compressed audio file is sent to the set-top-box which uses cloud services to execute the voice command.
For more detail: TI redesigns wireless MCUs from ground up