In this project you're going to monitor the status of a door using an ESP8266. The goal of this project is to show the endless possibilities that this $4 WiFi module offers when integrates with a free platform that I'm about to show you. Before continue reading this project, please complete the following tutorials or use them as a reference: How to get started with the ESP8266 How to Install the ESP8266 Boa ...
Read more

›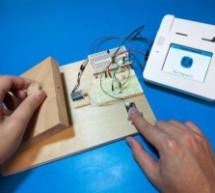 We built a biometric fingerprint-controlled lock prototype. A fingerprint scanner is used to capture and store the fingerprints of authorized users. When the scanner recognizes a user, a solenoid plunger disengages and opens the lock.Parts List: The fingerprint scanner module is powered by an ARM Cortex M3 CPU, which controls the on-board optical sensor and fingerprint recognition. Fingerprints are stored a ...
Read more

›
description This is my electronic codelock to use with an outdoor gate. The lock itself is implemented in software. It operates a relay (for example to open a door) for a few seconds if someone enters the valid code. The secret code can be changed any time after entering the current code. Note that in this application it's not necessary to make an exact clock frequency with crystal (as seen on the schematic ...
Read more

›