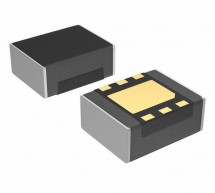 The XCL206 series is a synchronous step-down micro DC/DC converter which integrates an inductor and a control IC in one tiny package (2.5mm×2.0mm, H=1.0mm). A stable power supply with an output current of 600mA is configured using only two capacitors connected externally. Operating voltage range is from 2.0V to 6.0V(XCL20xG:1.8V-6.0V). Output voltage is internally set in a range from 0.8V to 4.0V in increme ...
Read more

›
Three Phase Motor Drive Using Space Vector Pulse Width Modulation Technique (SVPWM): The space vector pulse width modulation is a technique, which is used for driving the motor at different frequencies. In recent years, different pulse width modulation techniques are used for driving the ac motors, such as sine wave pulse width modulating (SPWM), unipolar pulse width modulation (UPWM). In these techniques, ...
Read more

›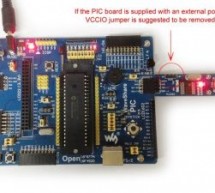 The microcontroller PIC16F887 has a build in USART (Universal Synchronous/Asynchronous Receiver/Transmitter) module. This module can be used as UASAT or UART. This small post shows an example for the usage of the UART protocol with PIC16F887 microcontroller. Hardware Required: PIC16F887 microcontroller MAX232 -- datasheet 4 x 10uF polarized capacitor Female COM port Breadboard 5V power source Jumper ...
Read more

›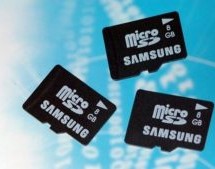 Interfacing PIC16F887 with FAT16 SD card After reading raw data (bytes and sectors) from SD card, now I'm going to use FAT16 file system to read and print text file located in 2 GB SD card. Read SD card raw data topic: MMC/SD Card raw data read with PIC16F887 microcontroller UART protocol is used to display the content of the text file. For this project, I used MMC/SD card driver for CCS C compiler which ca ...
Read more

›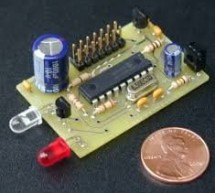 5-Channel IR remote control system using PIC microcontroller This topic shows how to make a simple infrared (IR) remote control system using the microcontroller PIC12F1822. This IR system has two circuits as known: IR transmitter circuit and IR receiver circuit. Both circuit based on the same microcontroller type which is PIC12F1822. This IR system uses NEC communication protocol. To see how the NEC protoco ...
Read more

›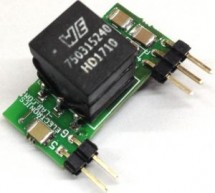 Mini Isolated Power Supply is designed for CAN, RS-485, RS-422, RS-232, SPI, I2C, Low-Power LAN applications. The power supply provides +/- 5.50 V DC symmetrical outputs with load current 500mA from 5V DC input. The project is built using SN6505A IC from Texas instruments. The SN6505A is a low-noise, low-EMI push-pull transformer driver, specifically designed for small form factor, isolated power supplies. ...
Read more

›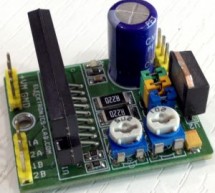 2 Phase stepping motor driver is a tiny board based on STK682-010 hybrid IC from ON semiconductor and it can deliver current up to 2.5Amp and has supply up to 32V DC. It has multiple micro-stepping: Full step, 1/2th Step, 1/4th Step, 1/8th Step, 1/16th Step, 1/32th Step, 1/64th Step, 1/128th Step.  PR1 trimmer potentiometer is provided to set the decay, 3.5V Slow Decay, 1.1V to 3.1V Mixed Decay, 0.8V-1V Fas ...
Read more

›