The STM32F446 from STMicroelectronics
STMicroelectronics Widens Access to High-Performance STM32 Microcontroller Line with New Devices in Small Memory Sizes
The latest STM32F446 microcontrollers from STMicroelectronics introduce new choices for designers by combining enhanced ARM® Cortex®-M4 processing performance, compact 256Kbyte or 512KByte on-chip Flash options all with 128Kbyte RAM, efficient memory-extension interfaces, and extended connectivity and communication capabilities.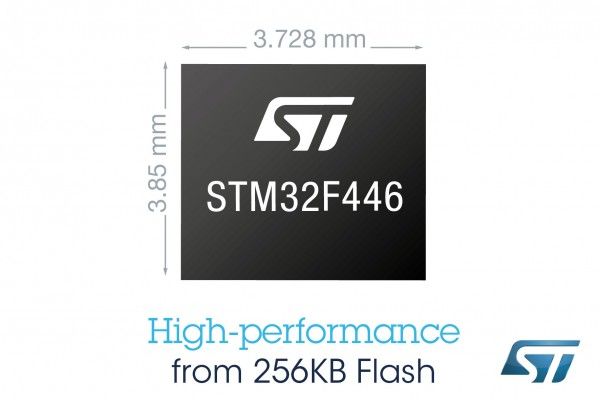 Leveraging ST's proprietary ART Accelerator™1, smart architecture, and advanced 90nm Flash technology boosts the performance of the standard ARM Cortex-M4 core with its floating-point unit and DSP enhancements. As a result, the STM32F446 CPU delivers category-leading performance of 225 DMIPS and 608 CoreMark®2 at 180MHz executing from embedded Flash.
In addition, advanced new peripherals, as well as microcontroller features supporting efficient simultaneous communication via multiple interfaces, enable smarter and more interactive industrial, scientific, medical, and Internet-of-Things (IoT) applications. The peripherals include a camera interface, seven I2S audio interfaces, a Consumer Electronics Controller (CEC) for managing multiple HDMI devices, a SPDIF digital audio connection, and a display parallel interface. There is also a USB block with dedicated power rails that enable continuous operation throughout the full core power-supply range down to 1.7V.
For more detail: The STM32F446 from STMicroelectronics
Current Project / Post can also be found using:
point to point ethernet communication in stm32 microcontroller
stm32f446 independant watchdog
Project Ratings:
Related posts
Leave a Comment