About us and SeaTalkie:
SeaTalkie is a walkie-talkie for water sports, with IPX8-class waterproof function. As well as a combination of User Experience Design elements, making it more suitable for water sports.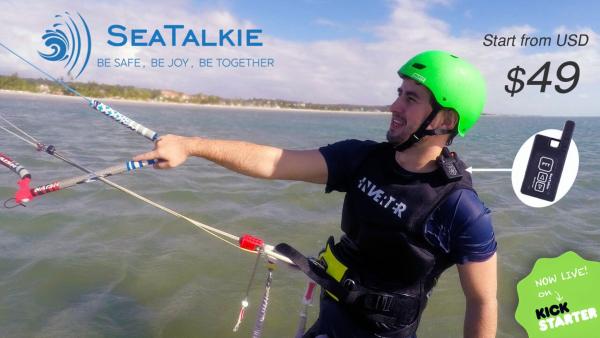 In the past two years,  
we have "hand-made"  more than 300 prototypes of SeaTalkies, and we sent them to water sports players for testing around the world. Including the United States, France, Germany, Brazil, Russia, Dubai, Singapore, Maldives, Costa Rica and Hong Kong. SeaTalkie is tested on different water sports such as Kitesurfing, Surfing, Jetpack Water Sports, Stand Up Paddling and Canoeing. And getting good responses.
In this year, 
SeaTalkie won the 2017 Hong Kong ICT Awards – Lifestyle category – Gold Award, which let SeaTalkie be widely recognized.
We are crowd-funding now on Kickstarter, and we will launch it on the market then.
Please support us!
SeaTalkie connecting in UHF radio band. Thus SeaTalkie can connect to other walkie talkies. Furthermore, Different walkie has different features. Some have further transmit range, some have larger batteries, some are louder in speaker. And SeaTalkie is featured strongly in waterproof, simply operating and mounting accessories for sports. Therefore, for better performance, A team may integrate different featured walkies all together to optimise the performance of communication. Of course including SeaTalkie.
There are chest strap, vest mount, helmet mount and paddle mount. Thus SeaTalkie is suitable for different usages.
We developed a new method to enhance waterproof function. There are no coverings, thus SeaTalkie is "always waterproof".
t is the concept of "User experience" design. The most user only needs the PTT (push to talk) button during activities.So it is not necessary to put all the buttons on the walkie. Thus we just reserve 3 buttons on SeaTalkie, the other functions are set by smart phone apps. These can simplify the design, smaller in size, and the most important thing is that users will not press the wrong button during exciting activities, especially for children.
Read More: SeaTalkie keeps you SAFE and CONNECTED during water sports