PSLAB IS AN OPEN SOURCE PLATFORM FOR STEM EDUCATION
I remember many years ago, when I was trying to acquire data with hardware especially with "Data Acquisition" devices, I was gifted a device that I must say reshaped my life – It was the NI myDAQ. The NI myDAQ was a product from National Instrument, and it allowed students to perform hands-on experimentation in or outside the lab. It was like your personal lab arsenal in your pocket, and you could turn it to most instruments you can think off.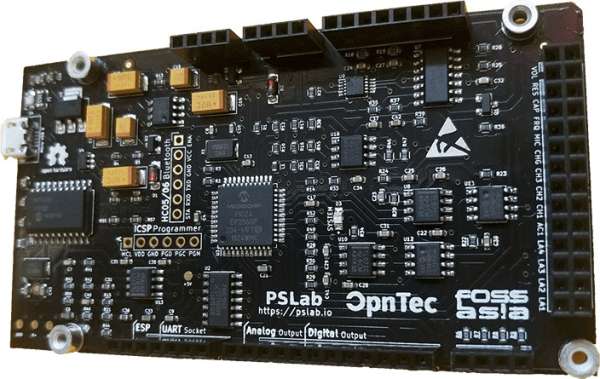 NI myDAQ impacted the STEM Education, but those are the days of NI myDAQ. A new entry to this arena is the PSLab also called Pocket Science Lab, which I am personally impressed about and the NI myDAQ is not really a competitor of it in terms of cost, features, openness, welcomes, and many more. PSLab is an complete open source platform for STEM Education.
Pocket Science Lab is a small open source device that provides an array of test and measurement instruments for doing science and engineering experiments by merely plugging it into a PC or an Android Phone via a USB port. The device can act as a voltmeter for measuring voltage, a personal oscilloscope, logic analyzer, a programmable voltage and current source, a lux meter, and even as a signal generator. Open Source Android or desktop apps can be used to view and collect the data. FOSSASIA and OpnTec develop PSLab in collaboration with a global community of Open Source developers.
Although PSL isn't to replace professional equipment, it is more tailored for teaching STEM and still can be used by anyone from students, teachers, makers, scientists, to engineers.
Read more: PSLAB IS AN OPEN SOURCE PLATFORM FOR STEM EDUCATION
Project Ratings:
Related posts