Posting a Tweet with the ESP8266
In this project you're going to post a Tweet with an ESP8266. The goal of this project is to show the endless possibilities that this $4 WiFi module offers when integrates with a free platform that I'm about to show you.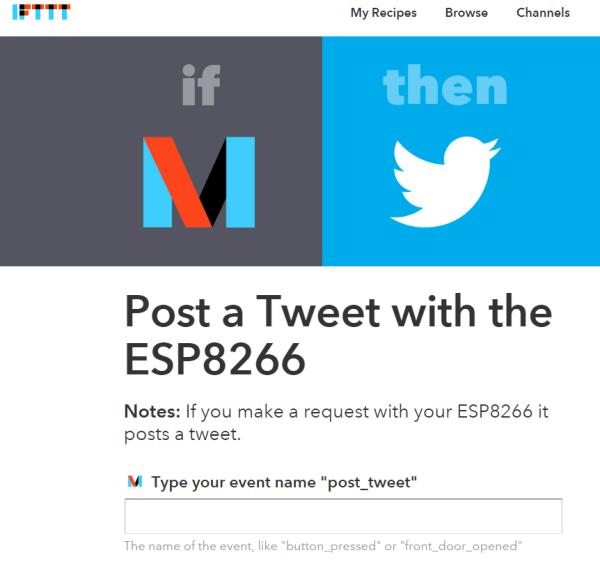 In order to accomplish this task you have to sign up for one free service called IFTTT which stands for "If This Then That".IFTTT is a platform that gives you creative control over dozens of products and apps.You can make apps work together. For example when you send a request to IFTTT, it triggers a recipe that sends you an email alert.Before continue reading this project, please complete the following tutorials:Creating an account on IFTTT is free!Go the official site: https://ifttt.com/ and click the "Sign Up" button in the middle of the page.Complete the form with your personal information (see Figure below) and create your account.
After creating your account, follow their getting started tutorial by clicking the word "this". Then click the "Continue" button that appears on your screen a few more times to complete their introductory tutorialI've created a recipe that integrates perfectly in this project and you can use it.
If you're logged in at IFTTT and you open this URL below to use my recipe instantly:
https://ifttt.com/recipes/316941-post-a-tweet-with-the-esp8266
Next scroll down that page and follow these instructions to make it work for you:
Connect your account to the Maker Channel
Then connect your account to your Twitter ChannelA new page loads (see Figure below) when you finish connecting your account to Maker Channel and Twitter Channel.
For more detail: Posting a Tweet with the ESP8266
Project Ratings:
Related posts