With the launch of the new embedded motherboard pITX-APL smallest 2.5" form factor, Kontron is extending its long-term available Pico-ITX portfolio to include a single Board Computer with the latest generation Intel® ATOM™ processor (formerly codenamed 'Apollo Lake'). This 'pico powerhouse' has been specifically designed for performance-intensive applications and supports the extended temperature range of -40°C to +85°C (non Operating Mode) and -25°C to +75°C (Operating Mode) . With its outstanding graphics performance, the board operates with separate independent displays. Additionally, the Kontron pITX-APL boasts an excellent performance-per-watt ratio and optimized Thermal Design Power (TDP). The ATX-compatible motherboard offers an extensive ecosystem, so developers can design even the most demanding systems based on standard components.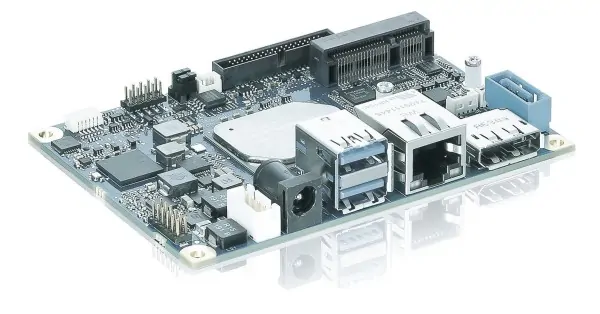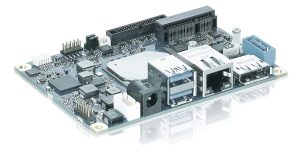 Features:
High performance CPU, graphics, and media performance supporting up to 3 independent displays
TPM2.0 and optional Kontron Approtect Security Solution
mPCIe half size, uSD/uSIM Card Combo
SO-DIMM Sockets DDR3L-1866 Memory (up to 8GB)
LVDS 24Bits dual channel and Display Port 1.2
The pITX-APL is part of the Security Solution Product Line; the motherboard is prepared for Application Protection, License Creation, Delivery, Management and Tracking, Implementation of license models as well as the assignment of privileges and access levels.
The Kontron pITX-APL excels with a wide selection of interfaces. In addition, customer-specific functions can be integrated via standard Mini PCIe extension slots as well as Kontron's own embedded Feature Connector. Additional features such as microSD/ microSIM Card combo and lockable external DC supply connector support Industrial Automation applications which further simplifies and accelerates system designs. With its SIM card socket, the motherboard is also suitable for deployment in intelligent, distributed 'Internet of Things' for time-to-market applications.
Long-term availability of these boards ensures that OEMs can obtain the same boards for additional or replacement systems, thus, being able to efficiently manage large field deployments.
Read more: PITX-APL – HIGH PERFORMANCE IN 2.5-INCH FORMAT