New Vishay Intertechnology Automotive-Grade Low-Profile, High-Current Inductor Offers Continuous High-Temperature Operation to +180°C
Vishay Intertechnology introduced a new automotive-grade IHLP® low-profile, high-current inductor with an industry-high continuous operating temperature range to +180°C. Offered in the 2525 case size with a low profile of 3.0 mm, the new Vishay Dale IHLP-2525CZ-8A provides a wide range of inductance values from 0.47 µH to 22 µH.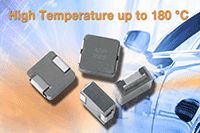 With a frequency range up to 1 MHz, the AEC-Q200-qualified device released today serves as a high-performing, space- and power-saving solution for voltage regulator modules (VRM) and DC/DC converters in high-temperature automotive applications. End products include engine and transmission control units, diesel injection drivers, entertainment and navigation systems, noise suppression for motors, windshield wipers, HID and LED lighting, heating and ventilation blowers, and power seats and mirrors.
For more detail: New Vishay Intertechnology Automotive-Grade Low-Profile, High-Current Inductor Offers Continuous High-Temperature Operation to +180°C
Project Ratings:
Related posts