German-based MicroSys Electronics has begun a limited sampling of a miriac MPX-LS1028A compute module and a sandwich-style miriac SBC-LS1028A-TSN SBC that runs Linux or the real-time Microware OS‐9 distro on NXP's QorIQ Layerscape LS1028A SoC. It also features 5x TSN-ready GbE ports, and support for up to 2x 10GbE SerDes lanes. The miriac boards emulate the only module using the single- or dual Cortex-A72 based LS1028A: Kontron's SMARC-sAL28, which powers its KBox A-230-LS embedded computer.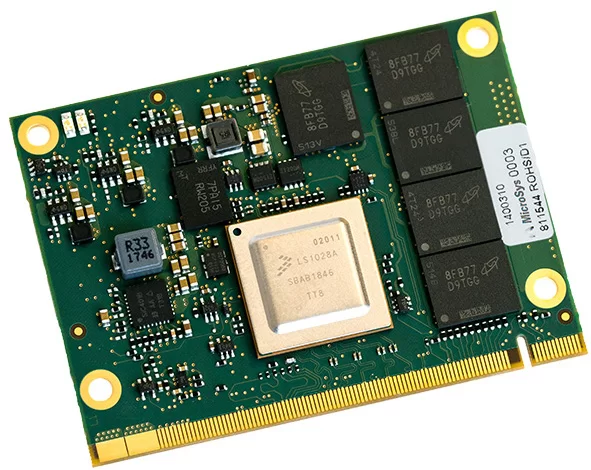 The LS1028A clocks its one or two -A72 cores at up to 1.3GHz, and features support for the real-time IEEE 802.1 Time-Sensitive Networking (TSN), that provides guaranteed latency and Quality of Service (QoS) with time synchronization. The LS1028A is the only QorIQ SoC available right now with a 3D GPU, alternatively, MicroSys allows you to swap it for a headless LS1017 or LS1027 model to save cost. The device comes with built-in Crypto engines and a trust architecture. The standard Linux BSP utilizes Yocto Project code.
The optional Microware OS-9 distribution which is promised in the third quarter of the year will take over from the OS-9 RTOS, which dates back to 1979. Microware (a collaboration between MicroSys, Freestation, and RTSI) has extended the PowerPC-compatible RTOS to support Arm-based QorIQ processors. MicroSys has dedicated itself to NXP development, offering Linux- and Microware OS-9 supported miriac modules and sandwich-style SBCs for a long period of years.
MicroSys' miriac MPX-LS1028A module was announced earlier in January, and its sampling now, with general availability by July 1. No dimensions are listed for the module, which utilizes an MXM 2.0 edge connector. The module offers up to 4GB DDR4-1600, and includes ECC, up to 256MB NOR and up to 4GB NAND flash.
Read more: MICROSYS ELECTRONICS NEW MODULE AND SBC FEATURES NXP'S CORTEX-A72 BASED LS1028A