MAX32520 Provides The Most Secure Boot For Root-Of-Trust To Protect Connected Healthcare, Industrial And Computing Systems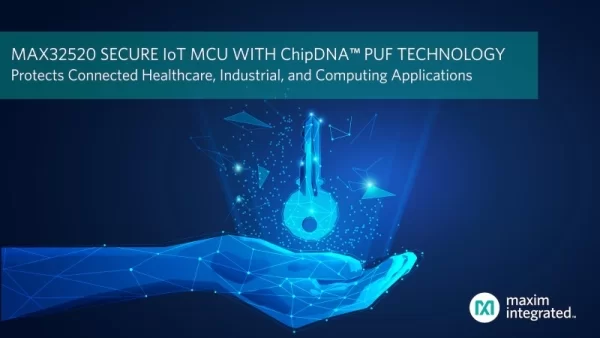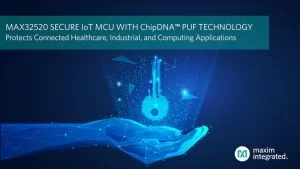 Maxim has released the MAX32520 ChipDNA™ secure Arm® Cortex®-M4 microcontroller, the first secure microcontroller with built-in physically unclonable function (PUF) technology for financial- and government-grade security. Maxim Integrated's PUF technology allows for multiple layers of protection to provide the most advanced key-protection technology in a cost-effective format for use in IoT, healthcare, industrial and computing systems.
As IoT applications continue to proliferate, large numbers of devices are being deployed in uncontrolled and hostile areas that make them more vulnerable to physical attacks. These are more sophisticated than software threats like poor crypto implementations or default password attacks. Designers want enhanced system defenses for their mission-critical applications where exposing secret encryption keys can bring down networks, ruin reputations, end companies and even negatively affect people's lives.
IoT developers are eager to add security to their designs but they are hard-pressed to find the expertise needed to get them to market with advanced protection, said Tanner Johnson, senior analyst, IoT Cybersecurity at Omdia. Enabling developers to incorporate PUF-encrypted flash and secure boot loading without system redesign or in-house code development will help them reduce time-to-market dramatically.
The MAX32520 with ChipDNA offers multiple layers of protection through its PUF technology, the industry's most advanced key-protection technology for safeguarding secrets used in cryptographic operations. It uses a tamper-proof PUF key for flash encryption, secure boot for root-of-trust and serial flash emulation. Additionally, the physical security inherent in the PUF key eliminates the need for a battery to actively destroy secret-key materials when under attack. Until now, the most-sensitive applications have always required a battery to provide this highest level of secret-key protection.
Read more: MAXIM INTEGRATED RELEASES SECURE IOT MICROCONTROLLER WITH CHIPDNA PUF KEY PROTECTION TECHNOLOGY