The programmable Signalgenerator PSG9080 can output many different waveforms like f. i. sine, square, triangle, pulse wave, and arbitrary waveforms. It has a generous frequency range from 1nHz to 80 MHz and a sampling rate of 33 MSa/s. The housing is made high-quality workmanship and offers slip-resistant feets to enable a comfortable work.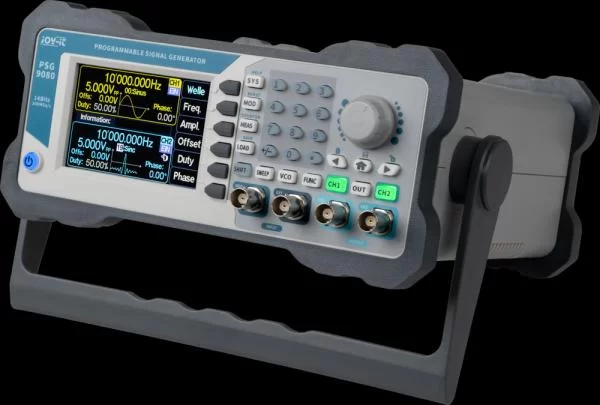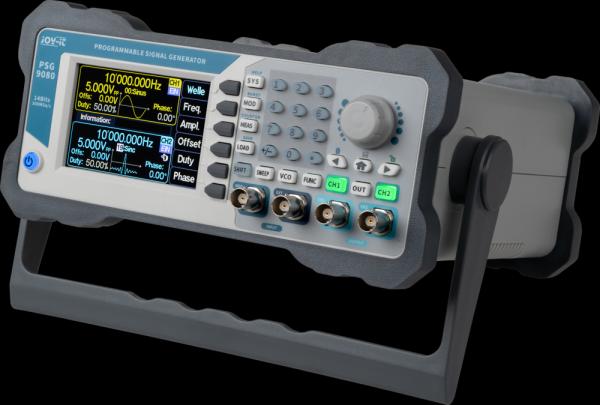 With this device, different modulation methods like f. i. frequency, phase, amplitude, pulse width modulation, frequency shift keying are no longer a challenge. The integrated measurement function enables you to measure and display the frequency, period and duty cycle of external signals in real-time on screen.
This signal generator is operated very easily with the intuitively keypad layout and the high-resolution 3.5 " color LCD. Different settings can be saved in groups as well and thus called up very quickly. The menu is available in the languages German, English and French.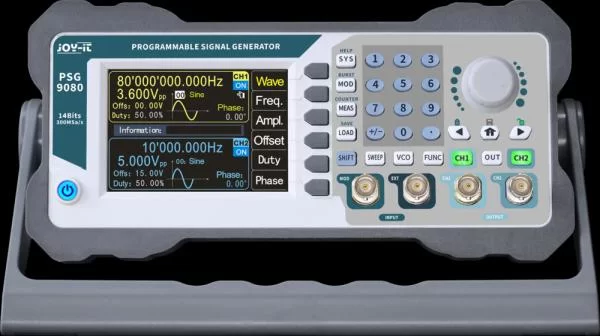 Features:
Programmable output:The type of waveform output (such as sine wave, square wave, triangle wave, arbitrary wave, etc.), output time, and output sequence can be freely formulated to realize automatic work.
Firmware update in real time:Firmware upgrade can be updated at any time to fix bugs, or used for your special customization needs. Press the corresponding soft key to confirm entering the update mode, and perform a one-key firmware upgrade by connecting with the PC software.
Voltage-controlled adjustment:The frequency, amplitude and duty cycle of the output can be controlled by an external analog voltage signal to achieve voltage-controlled sweeping frequency, sweeping amplitude and sweeping duty cycle, which are widely used in industrial debugging.
Modulation function:The modulated waveforms can be output in single channel or dual channel. Modulation: The process of adding information from a signal source to the carrier to make it suitable for channel transmission. It is the technology that makes the carrier wave change with the signal.
High sampling rate :The sampling rate of up to 300MSa/s can obtain more waveform data per unit time, thus making the displayed waveform more accurate.
Personal color:In order to meet the personalized needs of customers, four color schemes for the system are provided. You can use the numeric keys and knob to select the desired system color, press the soft key save to save the selected color.
Read more: JOY-IT PSG9080 DDS FUNCTION GENERATOR – PROGRAMMABLE SIGNAL GENERATOR