Physical storage drives have not changed a lot over the years. They have improved in terms of storage capacity and technology but they are definitely still a bit bulky (compared with how small things are becoming) and relatively slow. To offer an improvement to what is currently in the market, GrowthLabs recently announced the launch of a crowdfunding campaign for their Storage Drive device called; HyperDisk.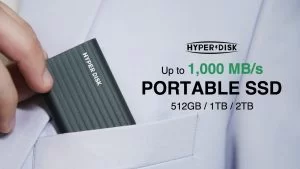 Hyperdisk was designed to become the best backup/storage solution in the market, with super-fast transfer speed, universal compatibility, compact size, and lightweight design. Weighing only 45g and with super slim dimensions of 73.9mm42.8mm10.9mm, the Hyperdisk breaks people's cognition of heavy and cumbersome SSDs.
While Performance may vary due to variation in the configuration of the host device, Hyperdisk is able to reach a read/write speed of nearly 1000 MB/s when used with a host device and connection cables that support Thunderbolt™, meaning with the right system configuration, it will take Hyperdrive only 20-22s to copy a 20GB file that will take an ordinary USB memory stick 25mins!
This super speed is achieved thanks to HyperDisk's the M.2 NVMe on which it is based along with other features. the M.2NVMe performs virtually 2x faster than SATA SSDs and 10x faster than traditional HDDs. Also, the core and its Intel flash are tightly closed and protected by its shell which offers reasonable protection against shock and vibration, ensuring that the Hydisk runs with a low failure rate and with zero noise. Besides, the shell is coated with waving aluminum alloy and touched with frosted feel, offering you a sense of the future, and contributing to the effective temperature management system that helps guarantee its perfect performance — around 60℃ in operating and 30℃ in static storage.
HyperDisk comes with a USB 3.1 Gen 2 USB interface and it is compatible with all Mac and Windows computers, along with Android smartphones and pads that support the Type C OTG or connection via the use of an adapter to convert the USB type to the one supported by the device.
To allow it meet the need of different people, HyperDisk comes with different capacity including 512GB/1TB/2TB, so either your need is an external storage for your phone or computer or you need a storage device for photography or Video, the Hyperdisk has something for you.
Read more: HYPERDISK: POCKET-SIZED & HIGH-SPEED PORTABLE SSD