Another OpenWrt audio board based on the processor with HLK-7688A board featuring Hi-Link HLK-7688A module is launched.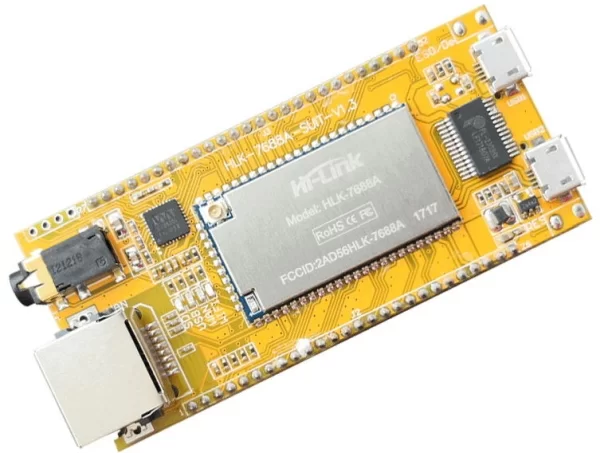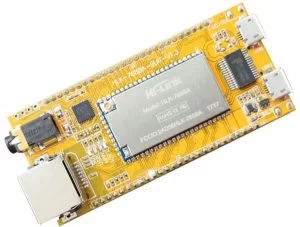 HLK-7688A board specifications:
Wireless Module – HLK-7688A based on MediaTek MT7688 MIPS24KEc processor @ 580 MHz, and equipped with 32MB RAM, 128MB flash
Storage – MicroSD card slot
Connectivity

802.11 b/g/n WiFi 4 up to 150 Mbps with u.FL antenna connector
10/100M Ethernet

Audio – 3.5mm audio jack; 4-pin speaker header, WM8960 audio codec
USB – 2x Micro USB ports one USB 2.0 port and one for debugging & power
Expansion – 2x 26-pin headers with GPIO's, SPI, UART, I2C, I2S, Ethernet, USB, GND, 3.3V…
Misc – 4x status LED's for WiFi, LAN, USB, and WiFi; reset button, factory reset button (long press)
Power Supply – 5V via Micro USB port
Dimensions – Module: 32.8 x 18 mm; Board (est): 75 x 34 mm
The board is apparently sold as a video and/or audio streamer storing files in USB storage or MicroSD card to be played on your phone. Up to 8 phones are supported for photo sharing, and 3 phones for simultaneous video streaming.
One of the photos of the board shows it supports OpenWrt 3.10 with Linux 2.6.36 SDK. It's probably a mistake, as when I tested the MediaTek LinkIt board two years ago, it ran Linux 3.18.21, OpenWrt Chaos Calmet 15.05+.
One buyer also mentions USB audio works just fine with Linkit firmware, and the latest version of OpenWrt can run on the board but without I2S nor I2C support. He later updated his comment with further details:
Openwrt driver support is left at v15 and even this version 15 is full of bugs. I2S is "mission impossible" andI could not get sound out of that board
If despite the software shortcomings, you're still interested in the board, it can be purchased for $16.70 with WiFi antenna on Aliexpress, or alternatively you could get the module only for $10 shipped from the same link.
Read more: HLK-7688A OPENWRT DEVELOPMENT BOARD COMES WITH AN AUDIO JACK