Microchip Technology has introduced the 25CSM04, a new high-density EEPROM (Electrically Programmable Read-Only Memory) with 4Mbit Memory, this doubles the 2 Mbit density with which the designers were previously limited to. The Developers were previously using NOR Flash ICs for the 2Mbit + nonvolatile data set application.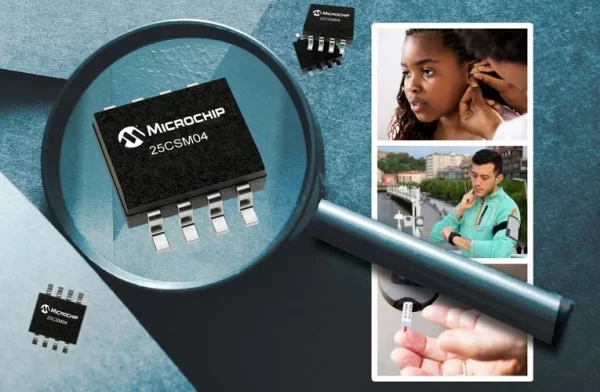 Since the EEPROM has a better performance advantage than the NOR Flash, Microchip has introduced a larger 4Mbit EEPROM. The new EEPROM is designed with a standby current (2 µA vs. 15 µA) and has the ability to perform single-byte, multi-byte, and full-page writes; shorter sector erase/rewrite times (5ms vs.300ms); and more erase/rewrite cycles (1M vs 100K).
The Company also has an extensive memory product family that includes serial EEPROMs, NOR Flash, SRAM, and EERAM in all standard serial buses and all standard densities from 128-bit to 64 Mbit. The 25CSM04 IC has been designed to be used in portable consumer and medical devices such as hearing aids, fitness trackers, and glucose monitors as well as in industrial, automotive, and other systems.
Read more: HIGH DENSITY 4MBIT SERIAL EEPROM FOR PORTABLE CONSUMER AND MEDICAL DEVICES