4D Systems, the manufacturer of intelligent graphics solutions, has announced a new 3.2" smart display module as part of the ' gen4 ' series, which had been designed specifically for ease of integration and use, with careful consideration for space requirements and functionality.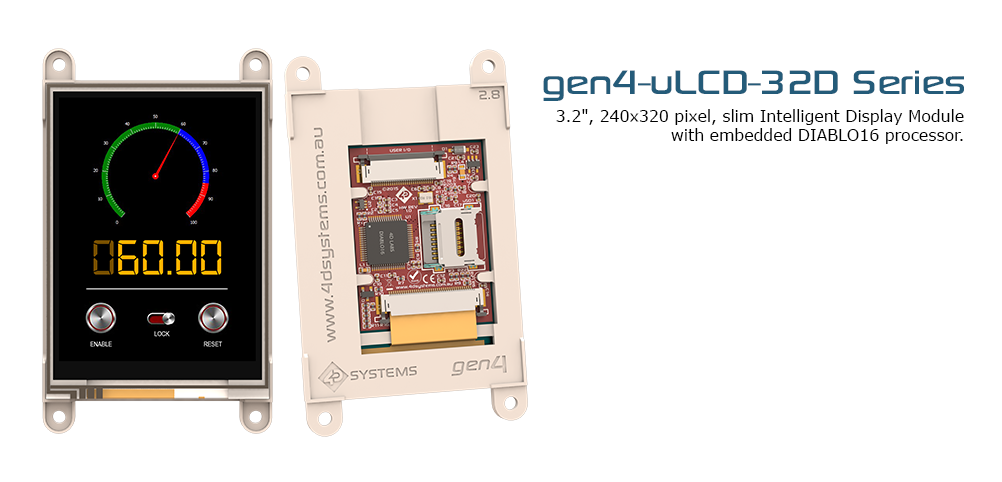 These modules features a 3.2" color TFT display with options for Cover Lens Bezel (CLB), Resistive Touchand Capacitive Touch. The display is capable of Touch Detection, microSD memory Storage, GPIO and Communications, along with multiple millisecond resolution timers, and Audio Generation. gen4 modules have 30 pin ZIF socket for a 30 pin FPC cable, for easy and simple connection to an application or a motherboard.
The gen4 display modules are powered by the 4D Systems Diablo16 graphics processor that offers an array of functionality and options for any Designer / Integrator / User. Diablo16 is a custom embedded 4DGL graphics controller designed to interface with many popular OLED and LCD display panels.
gen4 display modules features:
Powerful 3.2" Intelligent LCD-TFT display module powered by DIABLO16.
240 x 320 Resolution, RGB 65K true to life colours, TFT Screen with integrated 4-wire Resistive Touch Panel (on DT model only).
6 banks of 32750 bytes of Flash memory for User Application Code and Data.
32Kb of SRAM purely for the User.
16 General Purpose I/O pins for user interfacing, which include 4 configurable Analog Inputs.
The GPIO is variously configurable for alternative functions such as:

3x I2C channels available.
1x SPI dedicated for SD Card and 3x configurable SPI channels available.
1x dedicated and 3x configurable TTL Serial comm ports available.
Up to 6 GPIO can be used as Pin Counters.
Up to 6 GPIO for PWM (simple and Servo).
Up to 10 GPIO for Pulse Output.
Up to 14 GPIO can be configured for Quadrature Encoder Inputs (2 channels).
for more detail: GEN4 3.2", THE NEW INTELLIGENT DISPLAY MODULES