The CircuitMaker PCB design tool could be thought of as the electronics enthusiast's equivalent of Picassa, the free alternative to Photoshop – except that it's a got a much more refined interface which makes it easy use. The program's 3D modeling capabilities (more about that later) and other advanced features will help designers deal better with the "lumpy" nature of LED lighting products, or any other design project which involves large, irregular components. But that's only half of the story. The software's creators have also taken an interesting approach to solving several important technical and economic issues which have arisen with the Maker Economy by borrowing a few lessons from the movement's own playbook.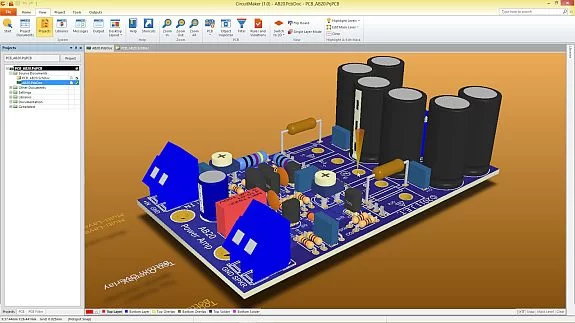 The company which created CircuitMaker is based on a hybrid business model which allows them to offer an extensible base program for free and then make its money from selling upgrades which enable it to handle larger, more complex projects or add specialized capabilities. Unofficial rumors hint that many software add-ons will be available for $50 or less and no component will cost more than $99. But even in its base configuration, CircuitMaker includes many of the pro-grade features and capabilities which Altium, Circuit Maker's parent company, offers in its high-powered pro-grade CAD packages which cost thousands of dollars per seat. This should help insure brisk sales of its upgrades to a loyal following from both electronics enthusiasts and professional designers who don't have access to high-priced tool chains. The video of my conversation (see below) with Max Clemons, Circuit Maker's director of marketing, at the NY Maker Faire provides some of the juice details.
As Max explains in the video, there are a few other unique features which set CircuitMaker apart from most of the other affordable PCB design tools. This includes a large (and growing) library of passive and active electronic components which include their physical dimensions, electrical characteristics, service ratings, and availability from a number of global suppliers. The component library is maintained as a "semi-crowd-sourced" data base which is managed by CircuitMaker but can also be be updated by both manufacturers and users.
For more detail: Free PCB design tool includes 3D modeling, crowd-sourced parts database