There are a host of boards based around the ESP32, and also its follow up, the ESP8266. It's noteworthy to witness how they have evolved from the simple breakout boards they were when the chip was released back in 2015 to something a lot more major. The latest of these boards is the esp32MX-E from Modtronix Engineering, which will be raising soon on Crowd Supply.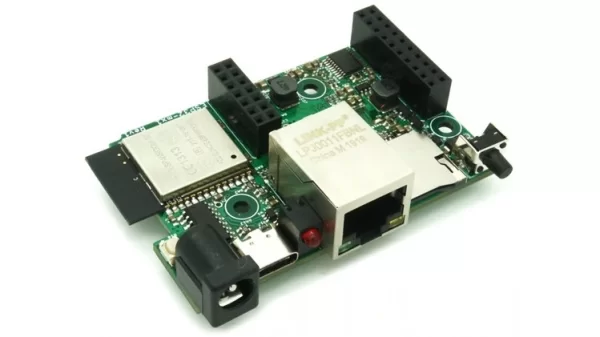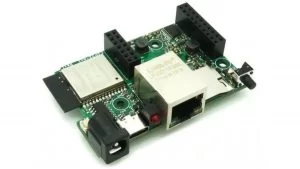 Measuring at 64.4 × 42 mm (2.54 × 1.65 inch), the board is designed based on an off the shelf ESP-WROOM-32 module. One interesting feature is its independent methods of powering the board; a USB-C connector, a 2.1 mm barrel connector, or via broken-out +V and GND pins, the board can be powered with a 4.5 to 16 V supply. The on-board USB connector also enables a serial console, and allows you to program the board. The board offers both Wi-Fi, and Bluetooth, enabled by the ESP32, and also an Ethernet jack. The board also features a Micro SD card slot, along with a user addressable LED and button. The ESP32 board is built around a dual-core 32-bit Tensilica's Xtensa LX6 micro-processor which operates at either 160 or 240 MHz, equipped with 4MB of SPI Flash, and 520KB of SRAM.
The board also has a user-programmable STMicroelectronics STM32F030F4 micro-controller. The micro-controller is a 32-bit Arm Cortex-M0 core operating at 48 MHz, with 256 KB of Flash and 32 KB of SRAM. The I²C I/O secondary processor expander handles the pins on the two expansion headers; the first has 2×7 pins, and the other has 2×10 pins with programmable pull-up and pull-down resistors on most inputs. We should note that not all of the pins are available when the SD card slot is in use.
The board will be released in two versions, but with different operating range. While both will have the same configurations, one will have an operating range of 0° C to 85° C, while the second, an 'industrial' version, will operate at temperatures down to -40° C. The board is aimed squarely towards the Internet of Things (IoT) and industry, and will be housed in anonymous black or grey boxes with numbers written in sharpie on the outside for easy identification from other boxes.
Read more: ESP32MX-E, THE NEW CHIP ON THE BLOCK