CompuLab introduces CL-SOM-iMX8X – a miniature System-on-Module built around the NXP i.MX8X System-on-Chip family.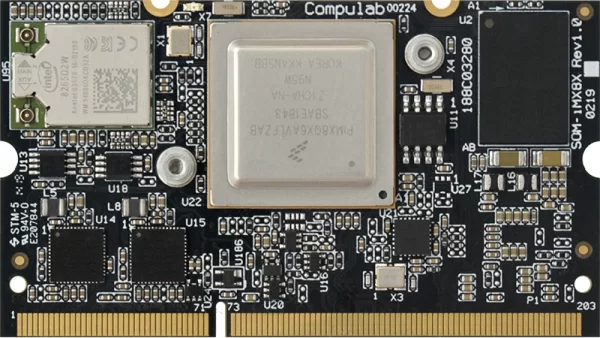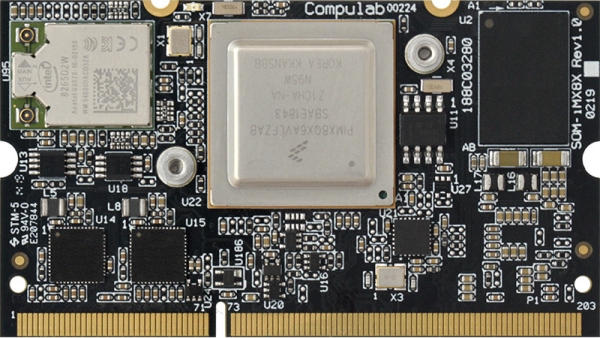 High performance, powerful graphics and extensive connectivity make CL-SOM-iMX8X an excellent solution for a very wide range of applications such as industrial HMI, building control, image processing systems, IoT gateways, medical devices and metering systems.
CL-SOM-iMX8X has been designed to bring out the full I/O capabilities of the highly versatile i.MX8X SoC. Peripheral interfaces include PCI Express, dual Gigabit Ethernet, USB ports, 4 UARTs, 3 CAN-FD ports and 96 GPIOs. Display connectivity is supported with two independent LVDS / MIPI-DSI interfaces. In addition, CL-SOM-iMX8X extends the i.MX8X I/O even further with on-board 802.11ac WiFi, Bluetooth 4.2 and 3 additional USB ports.
CL-SOM-iMX8X is offered with full industrial temperature range of -40C to 85C.
Software Support
CL-SOM-iMX8X is provided with a full BSP and ready-to-run images for the Linux operating system. The CL-SOM-iMX8X BSP includes Linux kernel 4.14, Yocto Project SDK and U-Boot boot-loader.
Evaluation And Design Suppor
To facilitate streamlined and rapid product development, CL-SOM-iMX8X is supported with the SB-iMX8X carrier-board and EVAL-iMX8X evaluation kit.
SB-iMX8X carrier-board has been designed for CL-SOM-iMX8X evaluation and application development. SB-iMX8X schematics, bill of materials and layout are available to be used as a reference design for a wide range of industrial use cases.
The EVAL-iMX8X eval-kit offered at $395, includes CL-SOM-iMX8X and SB-iMX8X hardware set, an optional LCD panel, PSU, cables and a technical support contract.
Feature Highlights
Up to 4GB LPDDR4 and 64GB eMMC
2x MIPI-DSI / LVDS, up-to 1080p60
2x GbE, WiFi 802.11ac, BT 4.2
mini-PCIe, 3x USB2.0, 2x CAN, RS485
Price And Availability
CL-SOM-iMX8X is available now through CompuLab's worldwide distribution channels and through direct sales (www.compulab.com).
Read more: CL-SOM-IMX8X – A MINIATURE SYSTEM-ON-MODULE BASED ON NXP I.MX8X SOC