Business Card Version 2
Since there is already a write-up on why and how I made the business card project, this post will only detail the changes made since the first version. If you would like more information on how this project was made and how it works, please visit the original write-up.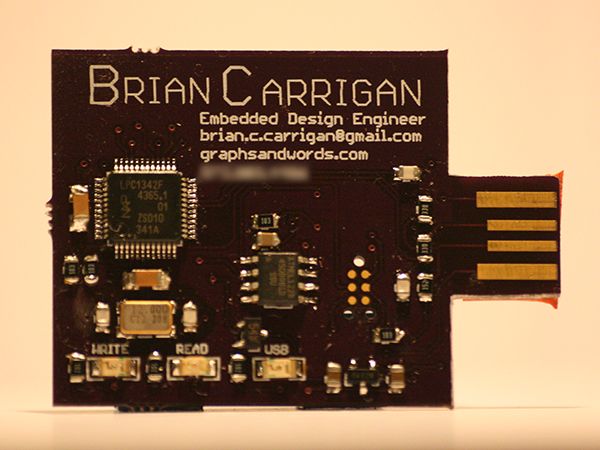 The initial USB business card was a success in the fact that it worked as a functioning mass storage device in a business card form factor. However, it had a few minor problems which were discussed in the first article, as well as some areas that I thought could use improvement.
The first and probably most obvious change is that the Molex USB connector was replaced by a few exposed traces on the circuit-board itself. I was against doing this in the original board because of the low quality finish on the boards I was buying. In addition, I had contacted a company which makes a USB connector directly on board to ask about the board thickness they use and was told that a snug fit requires a 2.4mm thick board. It is difficult to find inexpensive 2.0mm boards, let along 2.4mm. Since the board house I used for this batch was a higher quality board though, I decided to try the on-board connector and just use some thickening material on the back to make up for the thickness. I'm currently using three strips of electrical tape on the back of the boards and am happy to report that they have fit every USB port that I've tried them on.
Traditionally, the Cortex M3 uses a 10 pin .05″ pitch connector for programming and debugging. This connector can be seen on the original board- it was by far the tallest component on the board. If somebody received this business card, they might be weary about actually putting it in their pocket since the sharp pins could scratch or tear at clothing. While browsing Dangerous Prototypes one day, I stumbled upon a connector-less programming port which had a Cortex SWD flavor, and decided to try it. Using the legless connector allows for very quick programming with a secure connection, and it uses even less board real estate. I would only recommend using this type of connector for proven boards though since you have to hold the pins in place manually while programming or debugging.
For more detail: Business Card Version 2
Project Ratings:
Related posts