SwitchBlox is an open-source ethernet switch designed by Josh Elijah, who is the founder of BoxBlox. It was designed to make life easier for robot and drone developers or anyone who needs to use an ethernet switch. The switch is tiny, thereby making it easy to use in size constrained areas.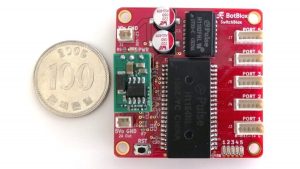 According to Josh,
there's currently no option for robot and drone builders looking for small and robust ethernet switch that is also open source." The SwitchBlox is a 10/100 ethernet switch that is complete and fully available with a Creative Committee License. SwitchBlox offers a way to "incorporate Ethernet into space, weight, and power-constrained applications easily.
Despite having its dimensions as 44.5 mm by 44.5 mm (1.75 by 1.75 inches), the switch has five Ethernet ports and still has room to display the LED status readouts for each of the ports. Due to its small size, there are no RJ-45 ports on the SwitchBlox. 1.25 mm Molex Picoblade five-way connectors that break out to RJ-45 with bundled cables are provided as a replacement.
Also, other cables are available with un-terminated ends. They can be used for power input, manual wiring, and or output. An extension cable kit which costs £29.00 is being sold. It is optional and provided just in case the user needs more cables.
The SwitchBlox can be used straight out of the box as an unmanaged switch. Users should simply apply a 7 to 40 V DC supply and connect devices using cables provided. The switch will start forwarding packets almost immediately without any setup.
Another option available is the use of an SPI (Serial Peripheral Interface) bus to access and implement full capabilities. This can be used when dealing with advanced applications. However, it is important to remember that the board comes fully assembled and can be used without firmware.
Other features include the Auto MDI-X crossover and a 5V 2A power output connector to provide power to additional hardware.
Read more: BOXBLOX'S OPEN SOURCE ETHERNET SWITCH OFFERS FIVE PORTS