The ACPL-5160 is a commercial grade hermetically sealed optocoupler in a 16-Pin ceramic DIP package with gold plated leads. Solder dipped leads and various lead form options are also available. See the datasheet for details.
This family of Avago 2.5A Gate Drive Optocouplers provides Integrated Desaturation (VCE) Detection and Fault Status Feedback for IGBT VCE fault protection in a rugged, hermetically-sealed package.  The devices are capable of operation and storage over the full military temperature range and can also be purchased with full MIL-PRF-38534 Class H testing or from the DLA Standard Microcircuit Drawing (SMD) 5962-12236. The ACPL-5160 is manufactured and tested on a MIL-PRF-38534 certified line and the Class H version is included in the DLA Qualified Manufacturers List QML-38534 for Hybrid Microcircuits.*
This is a highly integrated power control device that incorporates all the necessary components for a complete, isolated IGBT gate drive circuit with fault protection and feedback into one rugged, hermetically sealed package.
Commercial Grade, Hermetically Sealed Ceramic Package
–55°C to +125°C Operating Temperature Range
2.5A Maximum Peak Output Current
IGBT Drive Capability up to IC = 150 A, VCE = 1200 V
Optically Isolated FAULT Status Feedback
CMOS/TTL Compatible
500ns Maximum Propagation Delay
"Soft" IGBT Turn-off
Integrated Fail-Safe IGBT Protection
– Desat (VCE) Detection
– Under Voltage Lock-Out Protection (UVLO) with Hysteresis
 User Configurable: Inverting, Non-inverting, Auto-reset, Auto-shutdown
Wide Operating VCC Range: 15 V to 30 V
15kV/μs Typical Common Mode Rejection (CMR) at VCM = 1000 V
Military, Aerospace and Harsh Industrial
High Reliability and Mission Critical Systems
Isolated IGBT/MOSFET Gate Drive
Inverters
AC and Brushless DC Motor Drives
Switch Mode Power Supplies (SMPS)
Uninterruptible Power Supplies (UPS)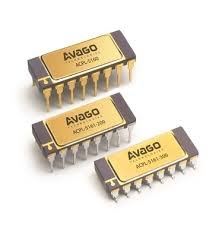 Avago Technologies has a range of 2.5A hermetic gate drive optocouplers featuring the ACPL-5160 and ACPL-5161.
The ACPL-5160 is a rugged commercial-grade version. The ACPL-5161 is a MIL-STD compliant version manufactured and tested to Class H quality conformance level under MIL-PRF-38534 specifications.
The devices are designed to operate across the full military temperature range of -55 to +125 degree C.
A higher output current drive capability supports high power mosfet and IGBT with power ratings up to 150A and 1200V.
The hermetic devices also incorporate new functions including VCE desaturation (DESAT) detection, under voltage lockout (UVLO), "soft" IGBT turn-off, and isolated open collector fault feedback.
For more read: Avago 2.5A optocouplers are mil-spec